Picture Hanging Inspiration for the Staircase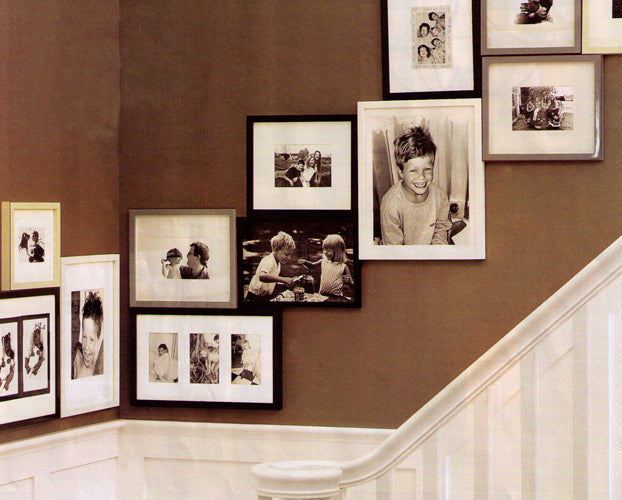 Inspiration for picture hanging can be found everywhere. A favorite retailer, Pottery Barn continues to create hanging ideas that are new and unique – check out the picture grouping up the stairwell.
The images are printed in black and white and themed around candid shots of children which creates a classic, nostalgic feeling that easily coordinates with many interiors styles.  By using the same picture frame profile but in different colors and wood finishes it creates a balanced and clean look.
Hanging picture frames up a stairwell always seems to be a challenging area but can easily be accomplished with the aid of the Hang & Level

tool.
Start by laying out the frames on the floor to create a stacking pattern horizontally and vertically so that you have direction when you are hanging the frames on the wall. It is easiest to start with a few larger frames as the anchors and fit in the smaller frames around them.
Begin hanging the picture frames starting with the largest frame and using Hang & Level to position the first frame at eye height on the wall.
Continue hanging the remaining frames in the same pattern you created on the floor. Always begin with the lower or bottom frame and then hang the next frame above it.

 

As seen in this image the frames can sit flush to each other.
Using Hang & Level with each frame will allow you to position the frames exactly where you want them without having to measure once!
Image source: potterybarn.com
Liette Tousignant
I'm passionate about picture hanging and decorating (and I'm also the Co-Founder of Under The Roof Decorating)