Perfectly Spaced Frames Without The Headache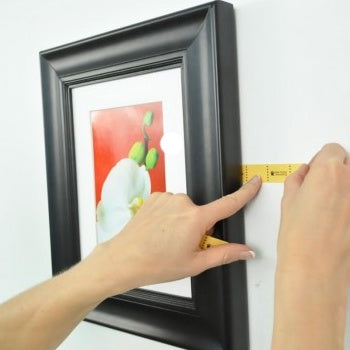 Forget complicated measurements or marks on the walls — so often you think you've figured out just the right spot to place groupings of artwork only to find that your spacing is off once the frames are up on the wall. We have an easy trick that will change the way you hang your wall décor forever, using low tack adhesive tape such as Painter's Tape. The tape gently sticks to walls without damaging your paint or wallpaper and is easy to remove when you're done, leaving nothing except expertly hung artwork. Here's how you do it:
 Hang your first frame and cut a length of tape to fit the distance needed between each frame. Having an extra pair of hands to hold the frame while you step back to eyeball the distance will help. Simply stick the tape horizontally on the wall next to the frame that is already hung.
 If you're not sure as to how much distance to leave between frames, although there is no universal answer, leaving a space of 2" to 5" between frames is a good rule of thumb. Be careful not to hang your frames too far apart, or it will look like you're just trying to fill the wall instead of creating a cohesive arrangement.
Hang the next frame using the tape as a guide. Repeat the steps for each additional frame, using the same piece of tape so that you know each space will be exactly the same length.
Peel off the tape. Voilà! You're done!
Let us know what you think. Will you use this spacing tip next time you hang pictures? Also, let us know if you have other easy hanging tips you'd like to share.
At Under The Roof Decorating, we make picture hanging easy. Our innovative products and helpful tips make it simple to hang almost anything wherever you want – and get it right the first time!