Our love-hate relationship with sectional sofas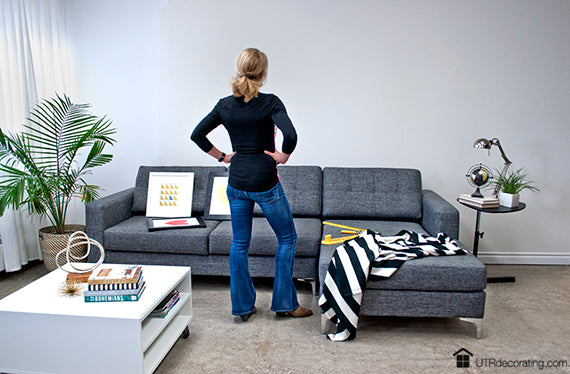 Sectional sofas – we love them because they're nice and big and they're perfect for the whole family to snuggle together to watch TV. On the other hand, we hate them because they're big and bulky, take up lots of floor space and never fit perfectly centered against a wall. Decorating the walls around them becomes a nightmare.
I received so many questions about hanging art above sectional sofas that I wanted to share some ideas and inspiration everyone can use. It sure would be nice to have a one rule fits all to answer all your questions, but there's none. Each "sectional" question is unique because each space is unique. Hopefully the following photos and comments will help you solve your own sectional decorating challenges. This post is the first of many about "how to hang art above a sectional sofa". So stay tuned, I'll share more photos over the next few weeks.
I've numbered each image to make it easy for you to add your thoughts, questions, or feedback in the comments box at the end of this article. Let the "couch therapy" begin.
1. Off-centered bookcase
(Image credit: Bassett Furniture)
I love how they used artwork and stacked up books to counterbalance the visual weight of the off-centered bookcase. If there was no art on the wall, you could just imagine how lopsided the room would feel.
2. Family wall
(Image credit: beneathmyheart.net)
Although the frames and mats are different in size, texture and color, the gallery wall is cohesive because of the "family" theme running throughout. Note that the gallery is not centered on the entire wall, it's centered with the total width of the sofa and end table together. Smart!
3. Bare walls
(Image credit: Designed w/Carla Aston)
No art needed! I'm glad they left the wall free of art because the large accessories on the coffee table and abundance of textured cushions are a strong focal point of this room. The blank wall turns out to be a good place for the eyes to rest. Do you feel like there should be something on the walls?
4. The blue sectional
(Image credit: Decoist.com)
This feels so fresh and organized. The blue in the painting ties in nicely with the blue sectional. Although I like this look, I think I would have left the wall free of art because the vertical boards are so attractive. What do you think?
5. The brick wall
(Image credit: Structube)
At first glance, the off-centered bookshelf looks too small against the large brick wall. But then the beautiful arched lamp adds such visual appeal to the space that it makes you forget all about the bookcase. The brick adds texture and a connection with nature, and evokes a sense of history. Leave it alone, there's no need to hang anything on it!
6. Gallery wall
(Image credit: MyDomaine)
The mismatched frames look great displayed together. The key to a perfect gallery is to make sure to balance out colors and sizes of frames throughout the arrangement. Note how the couch was not pushed into the corner. I like how the tree adds height and color to the room as well as filling the gap between the couch and wall.
7. Floor to ceiling art
(Image credit: PBteen)
OMG I love it! This is the perfect example of anything goes. Pieces are hung from floor to ceiling with a mix of family photos, fun quotes and 3D objects. It's a full splash of fun playful personality, in French we'd say "Joie de vivre".
8. Fifty shades of grey (and black)
(Image credit: Decoholic)
Quite a contrast from the image above. Instead of hanging each piece, a wall shelf was installed that matches the length of the couch. The black and white art is displayed at varied heights adding movement (highs and lows) to the room. A wall shelf also offers versatility, you can switch frames and accessories as often as you wish.
9. For the love of symmetry
(Image credit: Kylie M Interiors)
Here's a very simple symmetrical look, 6 identical frames and mats with small black and white photos. The total width of the frames is perfectly centered with a section of the sofa. The white wall, white frames, white accessories and light grey sofa create a soft and soothing atmosphere.
10. Window as art
(Image credit: West elm)
The window is like a piece of art in itself. The console table is centered between the window and wall. I love how they created different heights with the art and added branches to soften all the square lines and patterns.
As you see, every room is a different expression of someone's creative personality. And each offers its own decorating challenges. If you'd like to see more photos of living rooms, head to my Pinterest board, you'll find lots of design inspiration.
A final tip and one that I often recommend, is to take a picture of your room to help you identify problems and come up with design solutions. Try it, it really works!
Do you have a love-hate relationship with your sectional? Don't be shy, go ahead and share your feedback in the comments box below so we can start a conversation.
Thanks for dropping by! Talk to you soon.
Liette Tousignant
Co-Founder of Under The Roof Decorating
Make sure to sign up to receive our decor and design blog posts delivered straight to your inbox