Tip Tuesday: Easy Christmas Card Art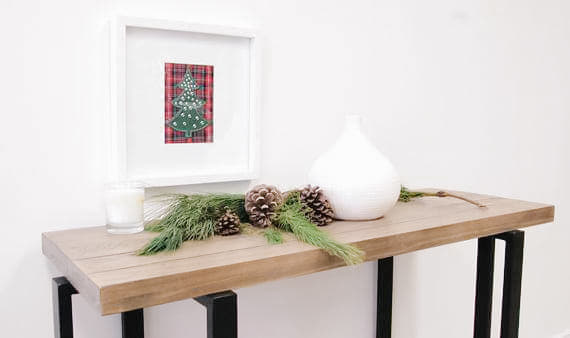 Have you ever received a Christmas card that was so stunning you didn't know what to do with it? You know, when it doesn't feel right to just display it on your desk as is because it clashes with your office décor nor does it seem right to not show if off because it's so pretty? Here's an idea - frame it! 
This is a great decorating idea that not only looks stylish, but can be pulled together in a matter of minutes. Not to mention, it spruces up your space for the holiday season and who doesn't love the Christmas spirit? Simply frame a holiday card and hang it up or display it over a mantel to create a festive vignette. 
We recycled a picture frame that we already had, and replaced the existing image with a gorgeous Christmas tree card. We used a small piece of clear tape at the top and bottom to hold it in place. No need to over do it with the tape as the backing and glass keep the layers tightly together. That's it. Easy peasy!
We hung the frame using Hang & Level™  and positioned it a few inches away from the console table to create a cohesive look.
Since the color scheme of our card was green and red, it made perfect sense to include fresh greens and pinecones to complete the natural Christmas look we were going for. The fresh pine branches add the perfect Christmas scent to our simple natural holiday décor. We love Christmas projects, and talk about an easy DIY, right?
Show us how you've decorated your house for the holidays. Comment down below! Thanks for hanging around!