Nature Inspired Bathroom Décor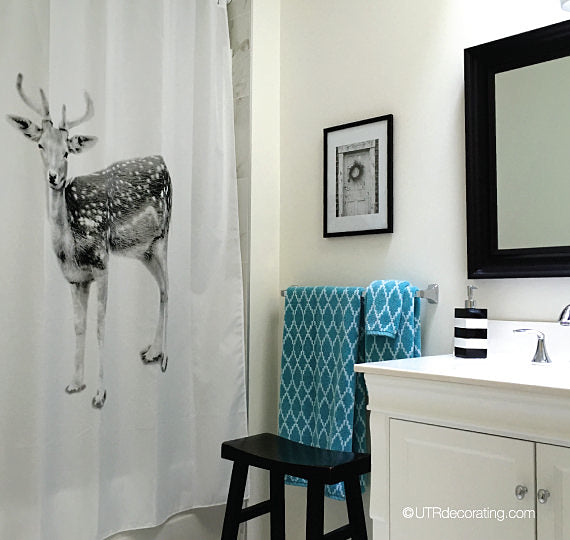 This charming Bambi shower curtain was the décor inspiration for my black and white bathroom at the cottage. Since we're surrounded by woods and lakes, we often see wildlife. This "dear" curtain was a creative way to bring the outdoors in and guarantee an animal sighting every single day. Lol!
When decorating the bathroom, I had originally planned to hang a white framed mirror, but it looked too pale and washed out against the white walls, floor and ceiling. I decided to go bold and hung a black framed mirror instead. It added some instant wow factor to the space – style, contrast, chic and elegance.
The nature-inspired curtain (from Simons) sets the tone for the rest of the décor scheme. I chose a simple black and white image of an antique door to hang above the towel rack. I didn't want anything too big or colorful that would take away from the main focal point of the bathroom – Bambi!
When it comes to hanging  just one frame, you can certainly eyeball this part. But, because I'm a perfectionist, I wanted the small frame to be perfectly centered with the side of the mirror and centered with the towel bar.
Here's what the "perfectionist" me did:
I marked the middle of the frame, mirror and towel bar with a small piece of painter's tape
Using

 

Hang & Level, I found the perfectly centered spot on the wall
Marked the spot, hung my frame, and levelled it
I used a

 

Déco Nail

 

to hang it with and secured it to the wall with

 

Anchor Points

 

– now my piece is guaranteed not to crash to the floor if a door is slammed shut. 
To complete the "au naturel" look, I put a bouquet of wildflowers in a black vase and stored extra hand towels in a small wicker basket, which adds warmth and texture to the space. The blue and white hand towels inject the right dose of color to the room without overpowering the natural feel I was looking for. Blue is the perfect color for a bathroom – it's soothing, fresh, and reminds us of the sea. Since the cottage is located right on a lake, it emphasizes the relaxing, peaceful theme of the surroundings.
What's the inspiration for your bathroom décor?
Thanks for dropping by. Talk to you soon.
Liette Tousignant
Co-Founder of Under The Roof Decorating