"My canvas has two D-rings on it. Is there an easier way to hang it?"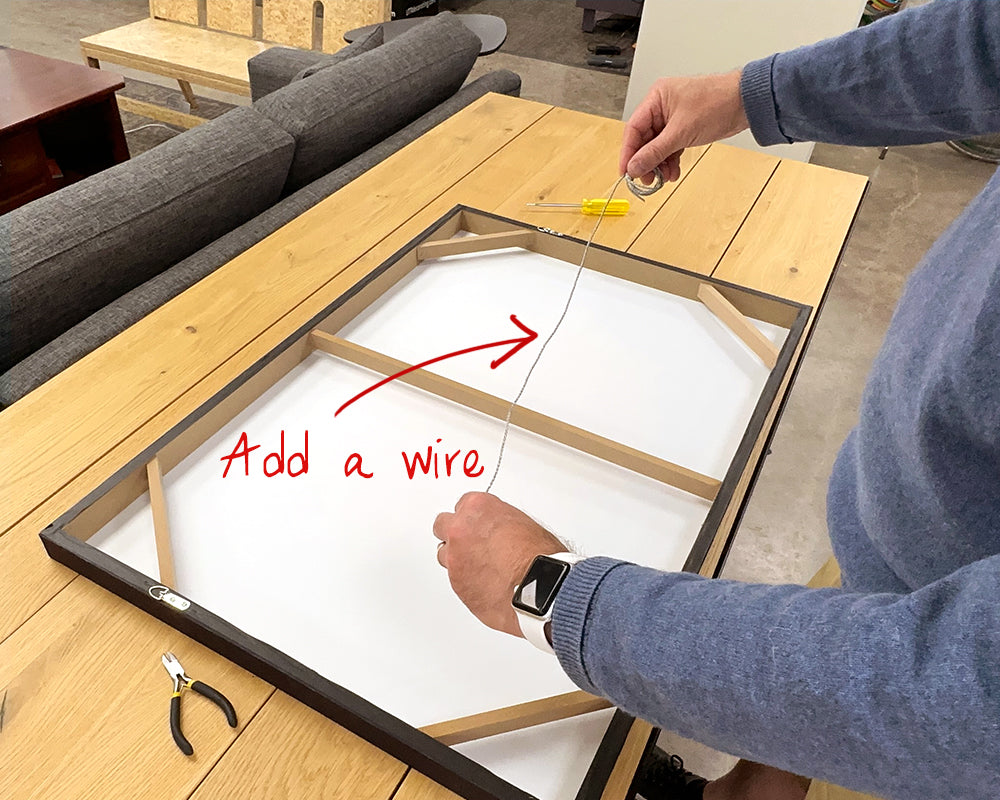 We love getting questions from our customers and this is one we got recently: 
"My canvas has two D-rings on it. Is there an easier way to hang it?"
That's a great question! Hanging a picture with D-rings can be tricky because it requires you to install two nails that can be hard to line up. One option to make the canvas easier to hang is to use the existing D-rings on the canvas and add picture wire. Here's why picture wire can be a good option.
Adjust the hanging location
By using picture wire, you have the added advantage of being able to adjust your canvas on the wall without hammering in new nails. First off, you can tighten or loosen the wire in order to make the canvas hang a little higher or lower on the wall. If you want to be able to make slight shifts left and right, then hang the canvas on two nails instead of one.
How to install picture wire
It's easy to add picture wire when the D-rings are already installed. Cut a piece of picture wire about 4 inches wider than the width of the canvas. Place one end of the wire through a D-ring with about 2 inches overhang, loop it back to the center of the canvas and secure it by twisting the wire around itself. Then, place the other end of the wire through the second D-ring, pull the wire taut, loop it back and twist to secure it in the same way as before. That's it!
Tip: Test the tension of the wire before you hang it on the wall. If the wire is too loose, then it may be visible over the top of the canvas, or cause the top of the canvas to hang away from the wall. Now you are ready to hang up and enjoy your new canvas.
Try CanvasHangers™
We love designing products to make decorating easy and help people create spaces that bring them joy. We designed CanvasHangers to be the best way to hang canvas art. They are a great solution because they are easy to install - and it's quick and accurate to hang a single canvas or multiple items together. Watch our CanvasHangers playlist on YouTube to see them in action. 
Got a question? Let us know and we will be more than happy to answer it. Click on the live chat below or email us at: questions@utrdecorating.com, and we'll do our best to help you Create the home you love™
-The UTR Team