How to install D-ring hangers on your picture frame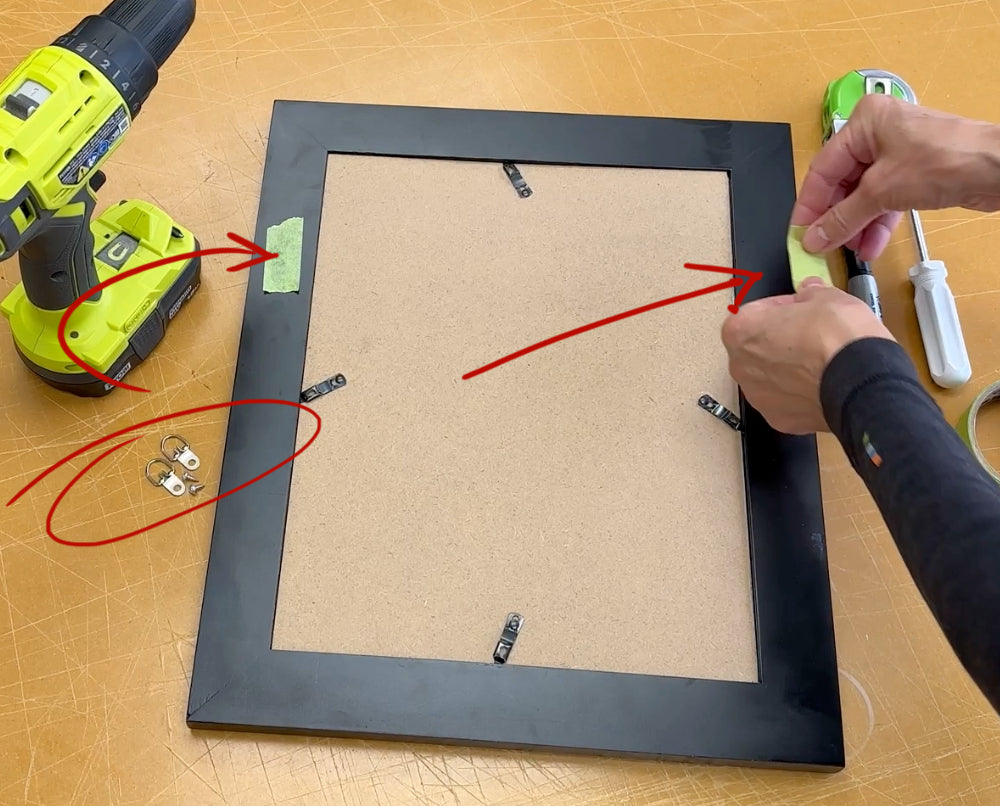 Sometimes you have a picture frame that doesn't come with hangers pre-installed. D-ring hangers are commonly used on décor items and can be useful when hanging heavier items because weight is distributed over two nails. Here is a quick and easy way to install D-ring hangers onto a frame. 
Mark the spot for the screws
Place Painter's tape on each frame edge about one third of the way down from the top of the frame. Make marks on the tape where to install each screw - use the same distance down from the top, on each side of the frame. 
Tip: an easy way to calculate where to put the mark is to measure your frame from top to bottom - and divide that number by 3. This is the distance to measure down from the top and mark the tape.
Drill starter holes
We often use starter holes to help avoid splits from forming in the frame when the D-rings are secured. Draw a cross on the tape using the mark already there and drill a small hole where the two lines intersect. You only need to drill into the frame about half of the length of the screw that is used to fasten the D-rings. 
Secure each D-ring
Align the D-ring fastener hole over the starter hole (with the D-ring facing upwards) and screw the hanger tightly to the frame. Repeat for the second D-ring. That's it! You are ready to hang your picture. If you'd prefer to see this installation in action, watch our YouTube video below.
Hang & Level™, the picture hanging tool
When hanging décor with D-ring hangers you have to work with two fasteners to get your picture level. We designed Hang & Level to mark exactly where to put the nail, without making any mistake holes. Here's how to hang a picture with D-rings in minutes using our picture hanging tool. 
We love designing products to make decorating easy and help people create spaces that bring them joy. Click on the live chat below or email us at: questions@utrdecorating.com, and we'll do our best to help you Create the home you love™
-The UTR Team