Movie set design inspiration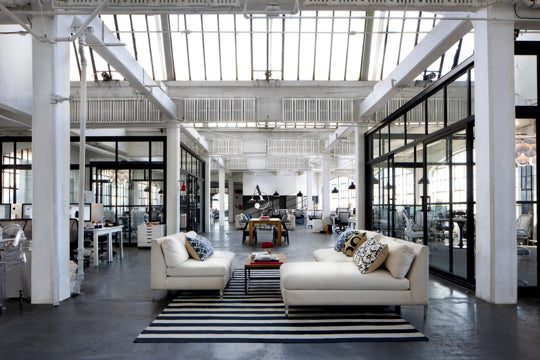 Some movies are best remembered for what's happening in them while others are remembered more for their soundtrack, costumes or set design. For me it's all about design.
With the Academy Awards just a couple of days away, I've been thinking about the set design of  The Intern, which is to-die-for gorgeous. If you want to find out about all the latest trends in design, they're all in the movie. Absolutely worth the ticket admission.
Photo: Warner Bros. pictures
Unfortunately, Nancy Meyers' movie starring Robert De Niro and Anne Hathaway was not nominated for an Oscar. That's too bad because it's a sweet, cute, happy movie where people learn from each other. Best of all though, it's chock-full of free design inspiration for your home, or in my case, my office.
The story is very simple; retiree widower Ben Whittaker (De Niro) was bored in his retirement. He seized an opportunity to go back to work as a senior intern at an online fashion site ran by founder and CEO Jules Ostin (Hathaway). It was filmed in trendy Brooklyn, New York. Watch the official movie trailer here .
Photo: Warner Bros. pictures
The office is in a 19th century factory building, a warehouse that was renovated. It's a beautiful industrial chic work space. It's spacious and flooded with daylight, and it's an open concept style office. Everybody works together in a shared space; no private offices other than a couple of boardrooms.
All the walls are white including the high ceiling which giving the space a light and airy feel. The office is peppered with black accents: black pendants light fixtures, rows of black chairs, striped black and white area carpet and black paint to identify enclosed spaces such as the boardroom.
Photo: Warner Bros. pictures
The floors are polished concrete, which makes it easy for Jules to cycle around the office to get around. How cool is that?
One of my favourite trends is black rimmed windows.  It frames the view and the whole thing becomes of piece of art. 
Jules' home is equally as stylish as her office. She and her husband live in a traditional Brownstone building in Brooklyn, New York.
Her kitchen is probably one of the most talked about kitchens of 2015. It's hip and young, featuring blue-grey cabinets, white subway tiles, clear pendant lights, white marble counter tops, a big island and open shelving. It almost has a bistro feel. The large mouldings around the windows are painted the same color as the cabinets.
Photo: Joshua McHugh
The kitchen also has the original fireplace and antique wood floors of a typical Brooklyn townhouse.
Photo: Joshua McHugh
In the dining room, the teak table with mismatched chairs of white & wicker. Hanging above is a trendy brushed brass chandelier with clear globes.
In the master bedroom, the walls are grey with white moulding. The room has a mix of modern and antique furnishings punched up with some bright accents like the chaise and throw cushions. Love the light fixture.
Photo: Francois Duhamel
This movie was very timely for me because soon we're moving to a large office space. We'll have lots of daylight, and the space has a large open floor plan like the one in the film. It's giving me lots of design ideas to think about to create a functional open concept space for our team. The movie not only entertained but provided a great design lesson.
You can read more about the set design here and here.
Have you seen the movie? Did you like the sets as much as I did?