Mirror, mirror on the entry wall…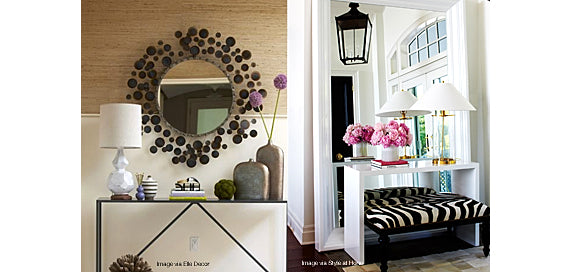 Okay, admit it – when you go to someone's house and there's a mirror by the front door, you sneak a peek at yourself, don't you? It's all right, most of us do.
From a decorating perspective, mirrors reflect daylight which means your entrance space will appear larger and brighter than it actually is. Mirrors come in all shapes and sizes, so you can have fun picking one that will match your wall space the best. For an alternative to putting holes in your walls, consider decorating with a floor mirror, just lean it against the wall.
That being said, you don't need to be afraid of hanging a large mirror or making those holes. It's easy when you know how. Click here to see how we hung a large mirror in the back entry of our office.
Make sure to sign up to receive our blog posts so you can have them delivered straight to your inbox.
Liette Tousignant
I'm passionate about picture hanging and wall decorating (and I'm also the Co-Founder of Under The Roof Decorating)