Make room for a home gym this New Year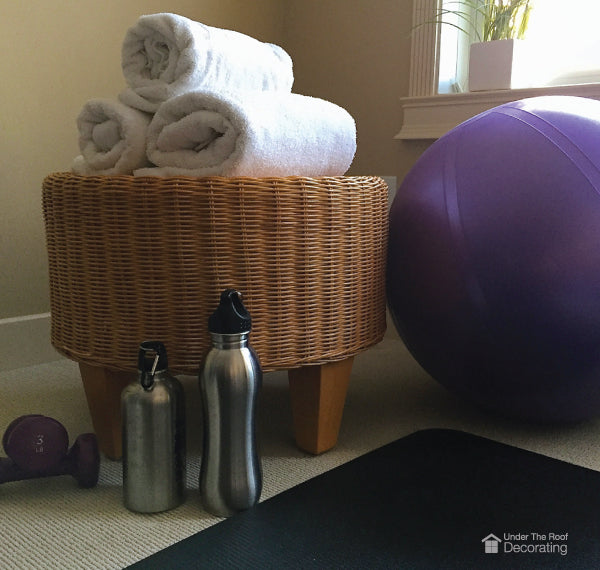 It's that time of the year again, post holidays, when you might be considering getting a gym membership to get a fresh start on the New Year. But before spending the money on gym fees, have you considered creating a home gym instead? You can work out around your own schedule, you don't have to drive anywhere and you don't have to share fitness equipment with anyone. In addition to those benefits, you're saving money too.
Years ago when my twins were born, I created a small work out space in our basement to allow me to work out regularly. Between raising babies and working full time there was little time to spare, so exercising at home made it a lot easier to stay fit despite my crazy schedule. It's been a very smart investment for both my wallet and my sanity.
Getting started is easy and there's no need for fancy equipment. Start with a few basic things such as a stability ball, dumbbells, and a yoga mat, then add as you go.
Don't rush out to buy an elliptical machine, treadmill or other fancy machine before you have a chance to test out your newly designated home gym. Otherwise they might end up collecting dust or serve as a place to hang clothes versus being used for workouts.
There are many ways to exercise with little to no equipment, and these days it's easier than ever to get home workout ideas online or through apps for your smartphone. This list of top workout apps highlights some of the best ones, most of which are free. Many of the workouts require little to no equipment, so they're perfect for your home gym.
Have a look at some of the creative ways people have transformed spaces in their homes into functional places to work out. Have fun with your gym. Decorate the walls with inspirational quotes to give you that extra bit of motivation to get fit. Use vinyl decals; they're easy to apply, come in a variety of lettering designs, and they're easy to remove without damaging your walls.
Images from Pinterest.
I love keeping track of my workouts with a "very complicated" smiley faces tracking chart. It may look childish but it keeps me motivated and inspires me to do better each week. I use a simple white dry-erase board I bought at 
Staples
 to keep record of my training. A chalkboard or large
post-it wall pads
 would work too.
If you're looking for more inspiration to design your own gym, head to our Pinterest board where you'll see different sizes and styles of home gyms. You'll be pleasantly surprised at how simple it is to create a home workout space on a very small budget. Just do it!
Do you have a home gym? If yes, what do you like the most about having one?  If not, would you consider one?
Liette Tousignant
Co-Founder of Under The Roof Decorating