Jazz Up Your Door with a Fall Wreath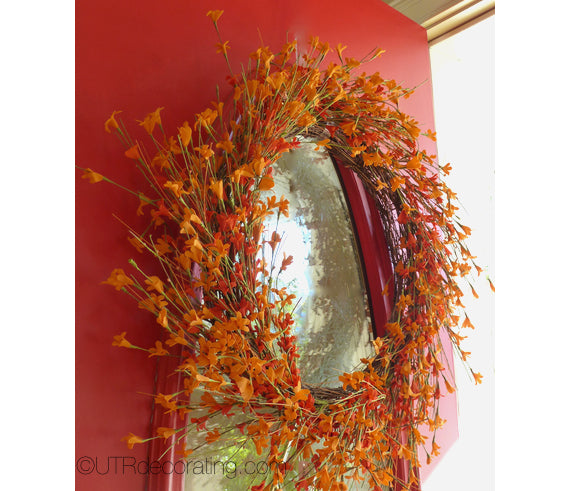 With the arrival of fall the beautiful flowers on your porch may be starting to look drab and dull, which means it's time to do a little autumn decorating. Hanging a fall wreath on your front door is the perfect way to add a little bit of seasonal color to your home. The wreath will jazz up your front door instantly, add curb appeal, and create a nice welcome for friends and family.
There are so many beautiful wreath styles to choose from. Find inspiration for your home on our Pinterest board , where you'll find a huge variety of wreaths, DIY projects if you want to make your own, and ideas on how to hang your wreath.
You can also see some of our favorite ways to hang a wreath without damaging your door at this link.
If you can't hang a wreath on your front door and still want to add one to your porch, you can always get a wreath stand like this one we saw at
Pier 1 imports
. You can hang one or two, the height is adjustable and it comes in various finishes.
Do you have any tips on hanging or displaying a wreath you'd like to share with us?
Make sure to sign up to receive our 
blog posts 
so you can have them delivered straight to your inbox.
Liette Tousignant
I'm passionate about picture hanging and wall decorating (and I'm also the Co-Founder of Under The Roof Decorating).