Jazz Up Your Wall with Bright Abstract Art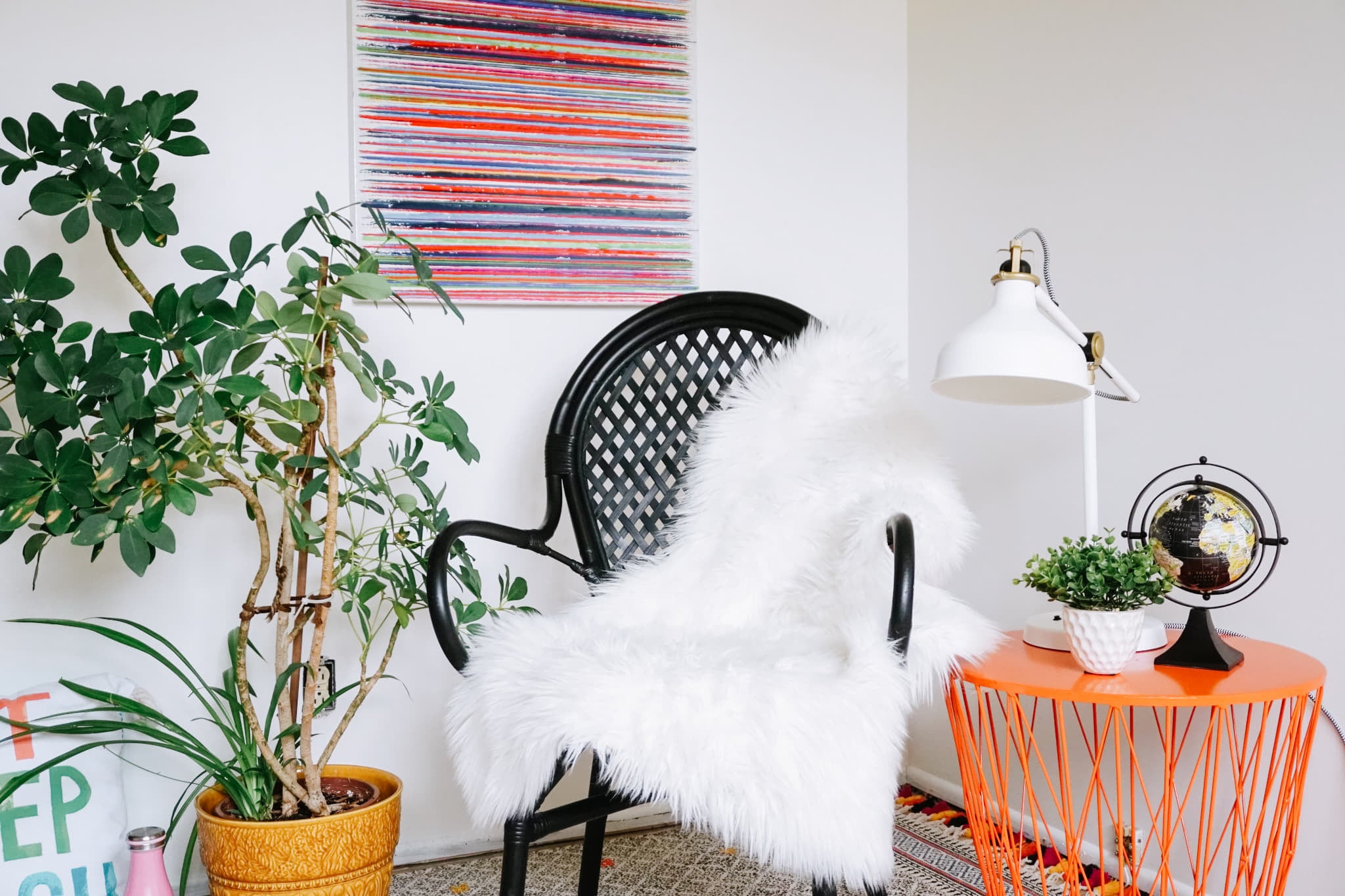 Is this canvas hanging upside down?
Got your attention, didn't we? That's the beauty of abstract art - it's meant to look beautiful whether it's hanging vertically or horizontally. Rest assured though, there's no right or wrong way. It looks great either way!
This little bedroom corner was craving more life, so right away we knew we had to jazz it up with something vibrant. When we saw this rainbow striped canvas, it was love at first sight. At the store, we weren't sure if the piece would look best hanging upwards or sideways, but it didn't matter because that's the beauty of abstract art.
Besides, it was affordable and had all the happy colours we were looking for. That's a win-win in our books.
Testing horizontal versus vertical. Hmm...decisions, decisions! Lucky for us, it looks great either way.
We ultimately decided to hang it vertically. Why? It's a small space and hanging it vertically made the ceiling appear higher and the wall taller. With that said, this piece could easily be moved to another room to fill a horizontal space at some point. We love when art can be flexible with our spaces. 
P.S. no tool belt was needed here. A cycling jersey with handy back pockets was the perfect solution to conveniently hold our Hang & Level, hammer, and nails to get the job done. 
Tips for hanging a canvas
Note: we didn't hang our piece in the center of the wall. Well, we did try that, but it felt like it was trying too hard to be centered and just didn't belong. While you might think getting everything straight and centered is the way to go, it's more important to hang your art in relation to the furniture below it.
As you can see, we hung it above the chair, to the right of the wall, while the tall plant fills part of the wall on the left.
Next, we used our handy Hang & Level tool to mark exactly the spot to hang our piece. No mistake holes were made in the process and it can be done by all yourself. Let's be honest, there isn't always someone around to help you hang stuff. So this tool makes it easy for one to do it all.
Check out this 30 second video on how to use Hang & Level:
Best of all, we used our limited edition white Hang & Level! Only available while quantities last. Shop at our online store.
We secured the art with a DécoNail and AnchorPoints to prevent it from shifting on the wall. And that's it!
The bottom of the canvas hangs a couple inches above the chair. Close enough to be related to it, but far enough so we don't have to worry about backing our chair into the art.
The colour palette of our art makes this little boho space bright, fun, and cozy. Decorating doesn't have to be complicated, and this is a perfect example of simple and pretty.
We love art pieces like this one. We call them passe-partout (translation: versatile pieces). Color-wise, they fit in with any colour scheme without clashing and you can hang them upwards or sideways to fit any wall space that needs to be decorated.
Feedback? Thoughts? We'd love to hear from you. Share in the comment box below!