It's a boy! Happy first Father's Day!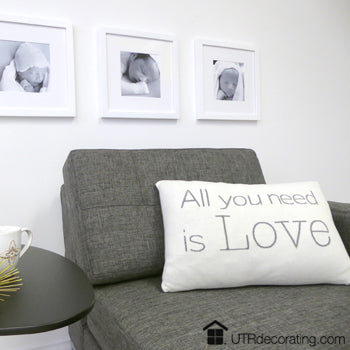 My co-worker's wife just had a baby, and they are beyond thrilled. It's their first baby and he's super excited to be celebrating his first Father's Day. As a gift, instead of giving him a tie or a pair of socks, we gave him all-white frames with pictures of his newborn son. This is a gift that new parents appreciate because they have no time to do this themselves, they're way too busy with the new baby.
To capture that newborn feel, we framed 3 close up shots of sleepy baby when he was only a few hours old. We printed in black and white and used all white frames for a timeless look that will fit in with any décor, no matter the style.
This is a quick and easy project with stunning results. No mess, and no glueing involved. Here's how to do it:
Start by taking the backing and white framing mat out.
Clean the glass with a lint free cloth making sure it's spotless before inserting your photo. Don't skip this step, or you may end up with some surprises that will tarnish the perfection of the all white look when you flip the frame over.
I used a small piece of clear tape at the top and bottom to hold the photo in place. No need to over do it as the backing and glass keep the layers tightly together.
Voilà! Our first frame is done. Repeat the same easy steps to frame the other photos. 
Before I started hammering, I placed the trio on the couch to decide the order in which to hang them. 
Hanging them was very easy.
Start by getting all the tools you'll need ready.
Using my Hang and Level, I hung the middle frame first, centering it with the back of the chaise. Next I hung the one on the left, then the right. 
There you go, new baby photos displayed on the wall for everyone to see.
Note: We used 15″ X 15″ white frames with a 7.5″ opening. We hung the frames in a straight line perfectly level with each other to fill a large blank wall above the chaise. Using large frames rather than a group of smaller ones creates a minimalist look that is calm and peaceful.
Speaking of sleep, it's something the new dad in our office could use a lot more of.
Congrats on your new roles as parents! We're so glad your baby arrived happy and healthy, and can't wait to meet him!
Happy Father's Day to all the Dads out there!
Do you have photos of your kids displayed on your walls?
Liette Tousignant
Co-Founder of Under The Roof Decorating