Is white ever too white for a cottage?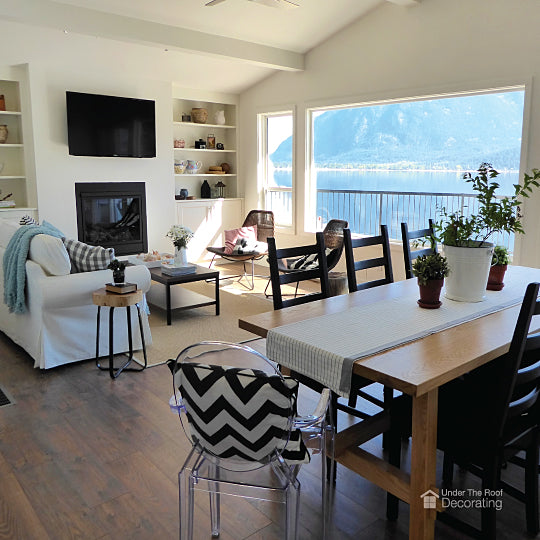 Benjamin Moore just announced their color of the year for 2016 "Simply White" and I couldn't be happier with their choice because I simply love white. After months of renovating our family cottage, we painted everything Cloud white – everything from walls, ceilings, baseboards, doors to casings and I LOVE it.  No regrets!
On a very cold day this past winter, I got an urgent call from our contractor asking me to come to the lake because the cottage was looking mighty white, cold, sterile and very hospital-like. He said: "Now is the time to change or add color to the space." Within hours of that frightening call, my husband and I were in the car, ready for the 7 hour drive. The whole time I kept wondering if I had made a mistake.
When I walked into the house, I headed straight to the open concept living room where I looked up, down and around and said 'I'm in heaven'! White was definitely not too white. I knew that once the paper protecting the floors was removed and we moved furniture into the space it would look terrific.
In addition to my love of white, another reason I decided to whiten the entire cottage is that it gets extremely hot in the summer and we don't have air conditioning (by choice). The newly renovated space is bright, airy and fresh. We barely need to have lights on in the evenings during the summer months. It's a big improvement from before, when lights were on even during daytime.
Come on in! Here's the entrance of my purple door cottage where there's lots going on. The color white creates a calm feeling, despite all the angles and hallways that jump at you as soon as you enter. There's a staircase to the walkout basement, a hallway to the right leading to the master bedroom, and then the galley kitchen that opens up to the deck.
As you can see, we have an open concept living, dining and kitchen area with a very busy ceiling. It's sprinkled with white rimmed pot lights, a skylight, ceiling beams, a fan and weird ceiling angles from the old cottage that we had to work with. With the walls, ceiling and trim painted white, it almost feels like all those things were part of the architectural plan. White does magic. It makes a space feel larger and a ceiling seem higher. That's the kind of magic that has been happening at our cottage.
The galley kitchen is a very busy looking space. There are lots of vertical and horizontal lines from the subway tiles, cabinets, cupboard hardware, ceiling, flooring and doors. I carefully chose whites that all work well together to create a clean, bright and spacious look, despite the fact that it's not big. The pops of colour like the sunshine yellow kettle against the white background look bright and so cheerful… I'm tempted to draw a happy face on that happy looking kettle.
In the dining room, the black chairs and wooden table look very elegant against the white background, despite the fact that their style is casual.
I couldn't help but add more white to the walls with these white shadow boxes hung in one of the bunk rooms. They look great and they never clash when I change the color of pillows or bedding. I call it "passe-partout" art – it goes with anything.
As much our contractor thought I was almost 'crazy' to paint everything white, he now loves it.  In fact, he's building a house for a new client and guess what color the interior is?
Congratulations to Benjamin Moore; I couldn't agree more with their 2016 choice for color of the Year. Their Cloud White has been my favorite white for my cottage and it looks fabulous. Make sure to come back to my blog next week. I'll give you a tour of my very white cottage featuring great before and after pictures that will make you wonder if it's the same space.
To answer my own question:  I don't think there is any such thing as too much white when decorating. Here's Benjamin Moore's video explaining their choice for making Simply White their color of the year. I approve!
"What do you think? Would you go all-white in your space?"
Liette Tousignant
I'm passionate about picture hanging and decorating (and I'm also the
Co-Founder of Under The Roof Decorating).