Is this picture frame the right size for this bathroom?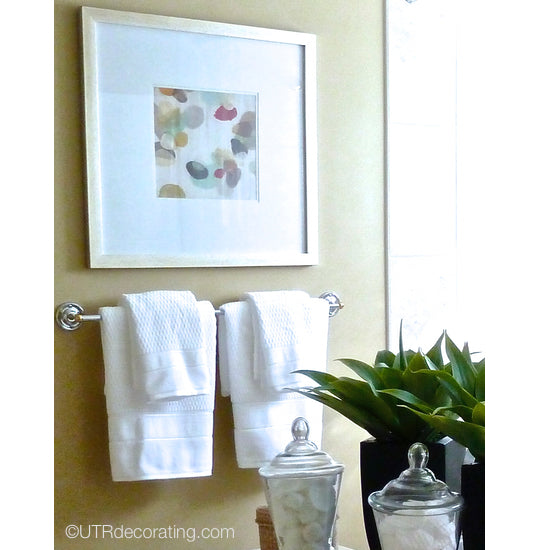 Yes! Here's why: I chose to hang only one large frame to counterbalance the scale of the towel rack and the towels below. I used a wide white mat in this tiny bathroom to help reflect daylight and to keep things light from a visual perspective. The narrow metal frame almost blends in with the towel rack, so that it doesn't draw too much attention. The abstract artwork adds just enough color to be eye-catching without overwhelming the space. We completed the spa-like atmosphere I was after by adding  fluffy white towels, sea shells, a plant and a small wicker basket.
When shopping for wall décor for your home keep the following in mind:
Note the measurements of the wall you want to decorate and bring a measuring tape.  It will save you time and potential mistakes too.
Bring a picture of your room.  This will help choosing colours that will fit in with your existing décor.
Think of the overall atmosphere you want to create in the room. Relaxing?  Energetic? Calming?  Your end goal will influence the colours and images you choose.
If possible, find images in magazines or online to inspire you.  It will give you more confidence when shopping.
If you have any questions, don't hesitate to ask, I'd love to help you!
Make sure to sign up to receive our blog posts so you can have them delivered straight to your inbox.
Liette Tousignant
Co-Founder of Under The Roof Decorating