Install a sawtooth hanger on your picture - quickly and easily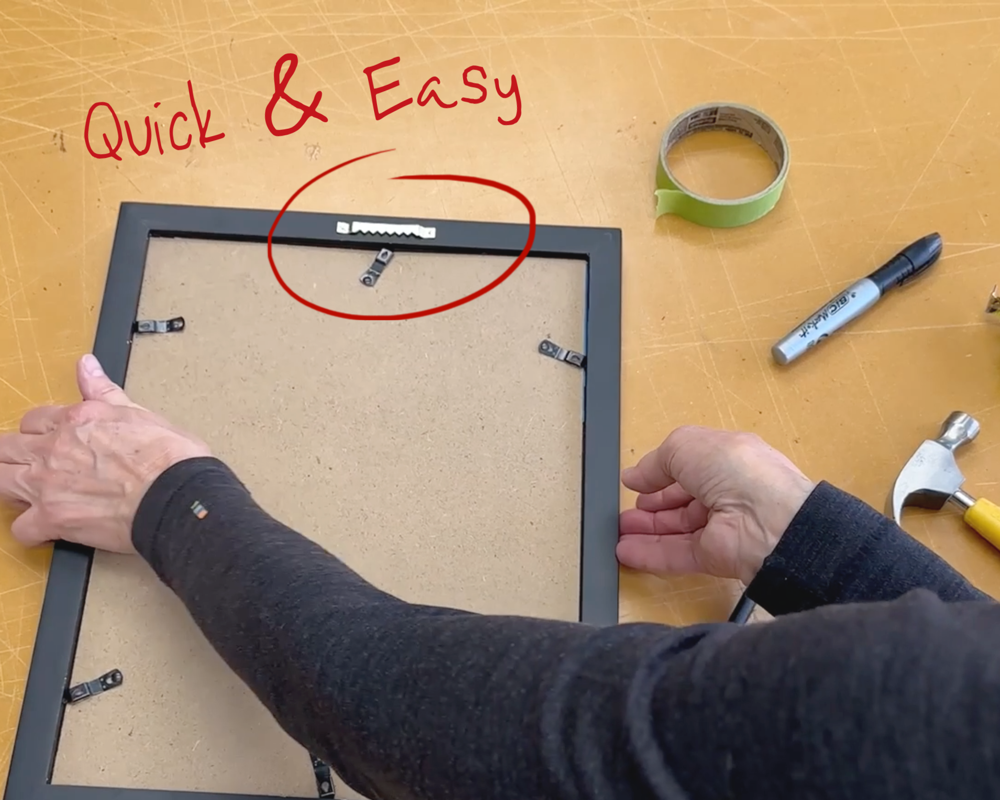 Sometimes when you buy art it doesn't have a hanger already installed. One of the most common hangers on art sold at retail is a sawtooth. Here's a really simple way to install a sawtooth hanger on a picture frame, so you can get your artwork up without delay.
Mark the center point at the top of the frame
Place a piece of Painter's tape on the top middle of the picture frame. You don't have to worry about being precise, just make sure it's around the center of the frame profile. Painter's tape is good to use because it will remove cleanly, but you can also use masking tape if that's what you have handy. Then measure the width of the frame and place a mark on the tape at the centerpoint.
Align the sawtooth hanger with the frame centermark
This is a little trick we use all the time to help align and hold the sawtooth hanger in the right spot. Place Painter's tape vertically across the hanger. It will stick to the tape and then you can use the tape to adjust the hanger into place on the frame profile. Position the hanger on the profile about half way down from the top. Align the middle of the hanger with the mark on the tape. Make sure the hanger is level (using your eye) and then stick down the tape to hold it in place. Most sawtooth hangers have a mark at their center so they are easy to align.
Tip: Even if the hanger is installed a bit crookedly, it won't make a difference for hanging the frame.
Secure the hanger with nails
With the sawtooth hanger held in place, it's easy to secure it with nails. Use pliers to hold the small nails to avoid banging your fingers with the hammer. Once you have a nail started you can remove the pliers and finish securing the nail flush to the frame profile. Hammer in both nails, remove the tape - and you're ready to hang your picture!
If you'd like to see the sawtooth hanger installation in action, check out our short How-to video on YouTube.
We love designing products to make decorating easy and help people create spaces that bring them joy. Click on the live chat below or email us at: questions@utrdecorating.com, and we'll do our best to help you Create the home you love™
-The UTR Team