Inspiring decorating ideas to jumpstart the New Year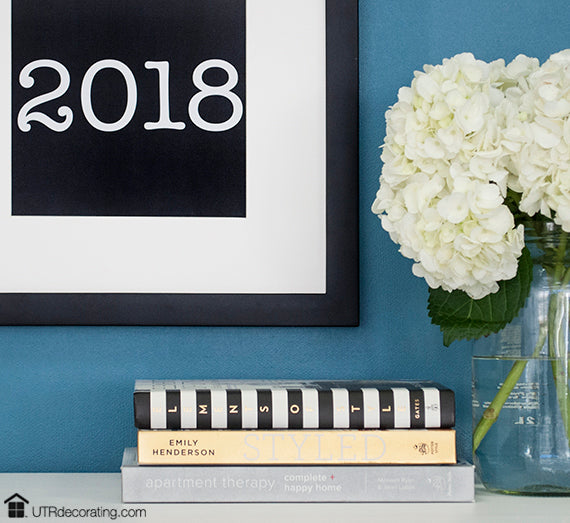 Now that the holidays are over and all of your Christmas stuff has been put away, your house most likely feels "naked", like something's missing, right? Well, if you're feeling that way, you're not alone. I go through that feeling Every. Single. Year. So this year, one of my decorating resolutions is to help you get your house in tip top shape without having to spend tons of money. (Sounds good, doesn't it? Especially after the holidays when money tends to be tight).
As you probably know by now, I'm obsessed with creating beautiful gallery walls, and hanging any type of wall décor. To me, art on walls is the easiest way to transform a space – just like what jewelry does to an outfit. So for 2018, my decorating resolutions are to challenge myself and come up with inspiring and affordable ideas to decorate your space. I want you to look around your house for treasures before rushing to the store to get the newest and trendiest accessories or furniture. To help you out, this year I'll be sharing with you articles such as:
Budget friendly art
Framing vacation memories
Creating the perfect gallery wall
How high or low to hang pictures
Decorating with kids' art
Tools to avoid making extra holes in walls
Patching walls
How to accessorize
Downloading free art
Furniture placement
Giveaways! Free stuff! And so much more…
How does all of that sound? If you have any suggestions for blog posts you'd like to see, or any questions, use the comment box to reach me. I read every single comment, so I'll get back to you asap.
In this newsletter you'll find the best articles posted throughout 2017 – the ones that generated the most buzz. The "crème de la crème" if you will. My ultimate goal is for this blog to be your "go-to" place when you're hanging new items or decorating your space. I know it's a big goal, but with your help in sharing these articles with your friends, I believe it's absolutely achievable. So spread the LOVE. To jumpstart 2018, next week I'll share hot trends for the year and inspirational quotes for your walls to keep you motivated.
P.S. In keeping with one of my New Year's resolutions, I want you to know that the vase we used in the picture is actually a hot pepper jalapeno jar. That's right! It's the perfect vase to hold large bouquets such as this one (hydrangeas). The best part is that it cost less than $5 when filled with peppers. Lol! That's a spicy flower. 
I'm thrilled about 2018 – I know it's going to be a fantastic year.
Cheers to you my friends!
Liette Tousignant
Co-Founder of Under The Roof Decorating