In the News: Extra, Extra, Extra! Read All About It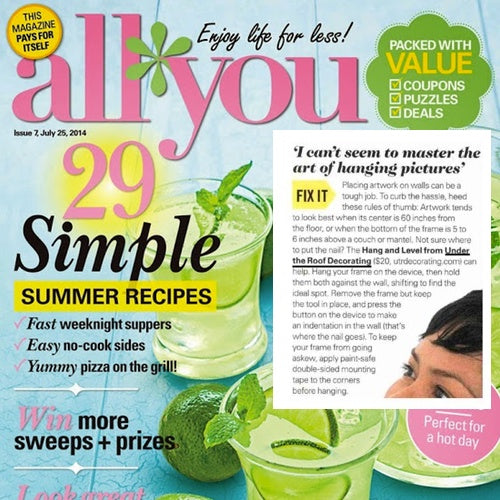 We've had good news times three this month. We were happy to learn that two major newspapers and a leading magazine featured our products. Thanks to Tribune Newspapers, readers of both the Chicago Tribune and the Daily Press will find it much easier to hang artwork without having to do any math. Our CenterFinder

was featured in both of these popular papers as part of an article on easy ways to hang almost anything at home.
We were also excited to see the editors of All You magazine recommending our Hang & Level

to their readers in a "Fix It" feature about the art of hanging pictures.  The magazine and its website are chock full of tips and articles for living and spending wisely.  Check out the Home section of their website (under the Lifestyle tab) for lots of easy and affordable decorating ideas.
All of the articles directed readers to our website, but we also sell our products through many major retailers across the US and Canada. If you're looking for a convenient place to pick up your own picture hanging tools, our Where To Buy page will point you in the right direction.