Easy Edible DIY: A Gift That Says You Care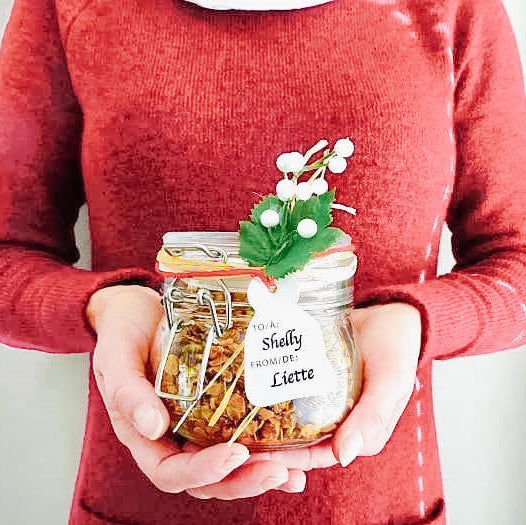 There's nothing like a homemade gift that gives you the warm and fuzzies. It shows that someone went through the extra effort to think about you, and that's what the holidays are really all about. Try this easy edible DIY that requires very little packaging. The best part is that it's a gift made with love and perfect for Christmas!
We kept things nice and simple, and made a healthy granola recipe we found years ago in our favourite Canadian magazine, Chatelaine. It's got the best of everything: crunchy, salty and sweet all at the same time.
Mason jars are the perfect choice to package granola: they're portable, eco-friendly and there's no wrapping paper to mess with. If you don't have mason jars, any clear jar will do: jam, spaghetti sauce, salsa, etc. We suggest using small jars versus large ones, which require way too much granola to fill them.
This is also the type of homemade gift that kids can help with, even if it means simply scooping the granola into the jars. While teachers don't usually expect gifts, they would certainly appreciate a pretty jar of healthy crunchiness rather than getting yet another coffee mug. It's also a creative hostess gift and a great stocking stuffer.
If you really want to fancy things up, tie strings of raffia around the lid holding a stem of faux berries and you're done. 
There's still plenty of time to create your own homemade Christmas gifts. Our DIY Gifts Pinterest board is chock-full of great inspiration. Take a look and see what strikes your fancy.
Are you planning on making any DIY gifts this year? Let us know what your gift ideas are in the comments down below!