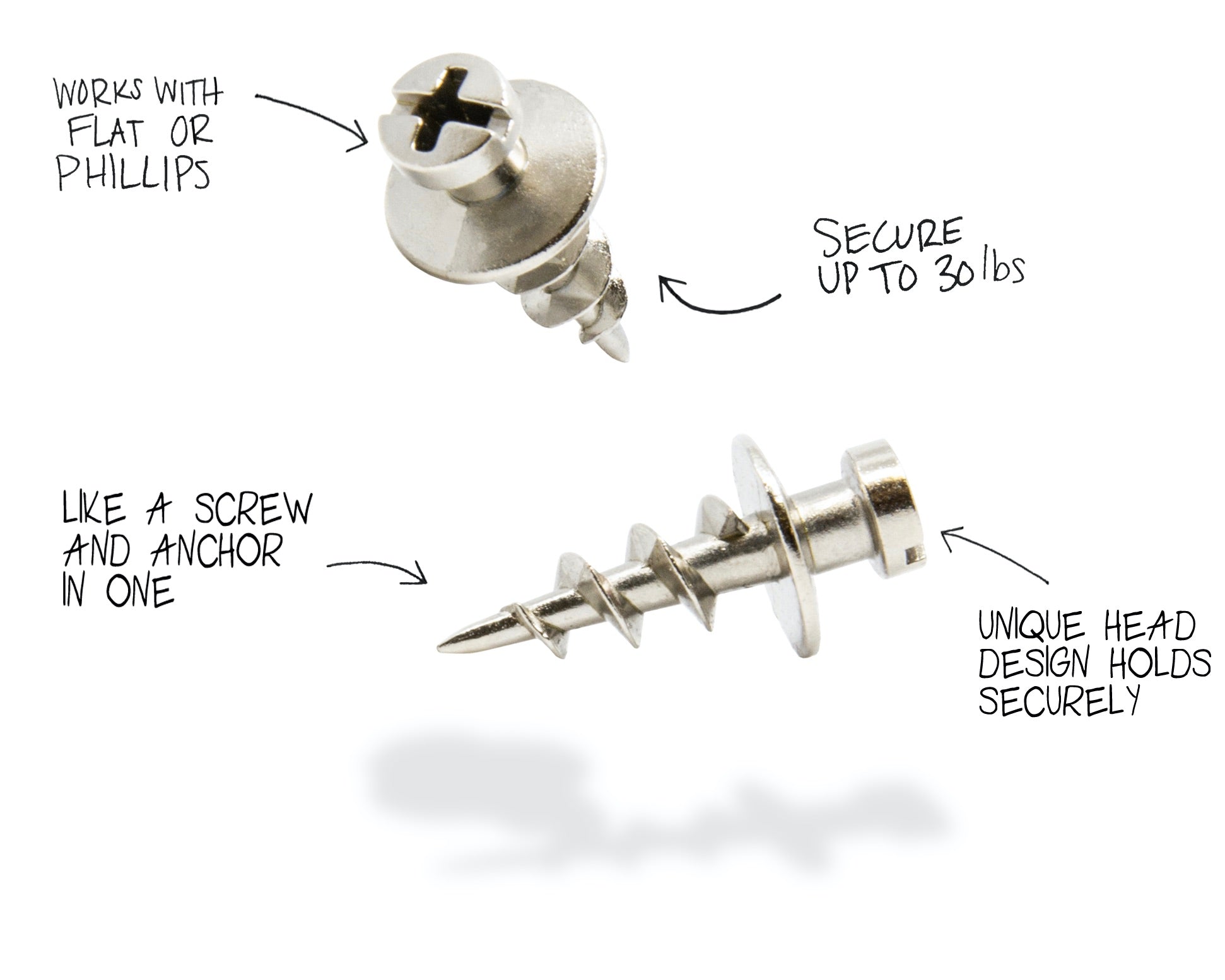 DécoScrews™ are a screw and anchor in one. They can be installed with a screwdriver and replace the complicated hanging systems that need a drill, anchor and fastener.
The patented design makes it strong and easy to install
DécoScrews are designed to securely hang heavy wall décor in standard drywall without puncturing wiring or plumbing. This screw and anchor in one is designed with a cone shaped shank that can hold items up to 30 lbs on a single screw. DécoScrews are easy to install with either a flat or Phillips screwdriver. Check out this video to see them in action.
Designed to be secure and versatile
The patented design of the head creates a groove between the back of the head and the wall to make sure whatever you hang on it, stays there. DécoScrews work with all types of hanging hardware such as picture wire, sawtooth hooks, D-ring and keyhole hangers.
They are perfect for hanging pictures, clocks, mirrors and other wall décor in drywall, in record time. Please do not use these screws to install floating shelves.
Works together to make picture hanging easy
All of our wall décor products are designed to work together to create a system that allows you to quickly and accurately hang wall décor in exactly the right spot, without any guessing, measuring or mistake holes.
Use the Hang & Level™ picture hanging tool to mark exactly where the DécoScrew goes into the wall. Once you have installed the DécoScrew into the wall, your picture will hang in exactly the same spot, every time. Check out this blog post to see how we hung a heavy clock with DécoScrews and Hang & Level.

We love designing products to make decorating easy. Click on the live chat below or email us at: questions@utrdecorating.com, and we'll do our best to help you Create the home you love™.

-The UTR Team