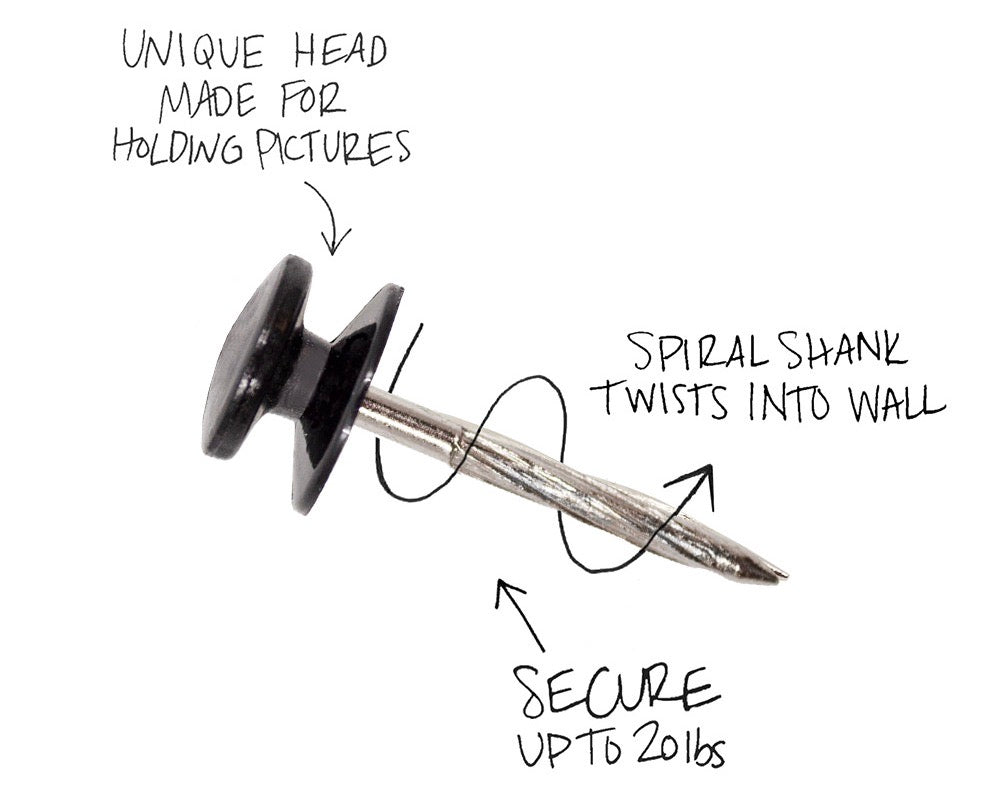 Looking for picture hanging nails you can trust? DécoNails™ are designed to hold securely in drywall, and work with all common hanging hardware types.
A bold hold in drywall
DécoNails are designed to securely hang your wall décor items in drywall. They can hold up to 20 lbs on a single nail, and are installed in the wall at a 90 degree angle so the plastic head of the nail is flush to the wall. The twisted shaft creates a strong hold while making only a tiny hole. Check out this video to see them in action.
Designed to be secure and versatile
DécoNails come in two head shapes: small and large. They are designed to work with all types of hanging hardware including: picture wire, sawtooth hooks, D-rings and keyhole hangers. The small head is particularly well suited to work with D-rings and keyhole hangers. The large head works best for picture wire and sawtooth hangers.
Select the head size you need for the item you are hanging. No matter which version you select, the head has a groove that is designed to hold your décor securely up to 20 lbs.
Removal is quick and easy
Removing DécoNails is simple: using the claw of a hammer, place it behind the tip of the nail and pull it out of the wall just enough to get the claw behind the plastic flange against the wall, and use the hammer or your fingers to pull it out the rest of the way. 
Keep your used DécoNails handy so you can reuse them for another project.
Works together to make picture hanging easy
All of our wall décor products are designed to work together to create a system that allows you to quickly and accurately hang wall décor in exactly the right spot, without any guessing, measuring or mistake holes.
Use the Hang & Level™ picture hanging tool to mark exactly where the DécoNail goes into the wall. Once you have installed the DécoNail into the wall, your picture will hang in exactly the same spot, every time. Check out this blog post to see how easy it is to hang three frames using Hang & Level and DécoNails.
We love designing products to make decorating easy. Do you have any decorating questions about using DécoNails? Click on the live chat below or email us at: questions@utrdecorating.com, and we'll do our best to help you Create the home you love™

-The UTR Team