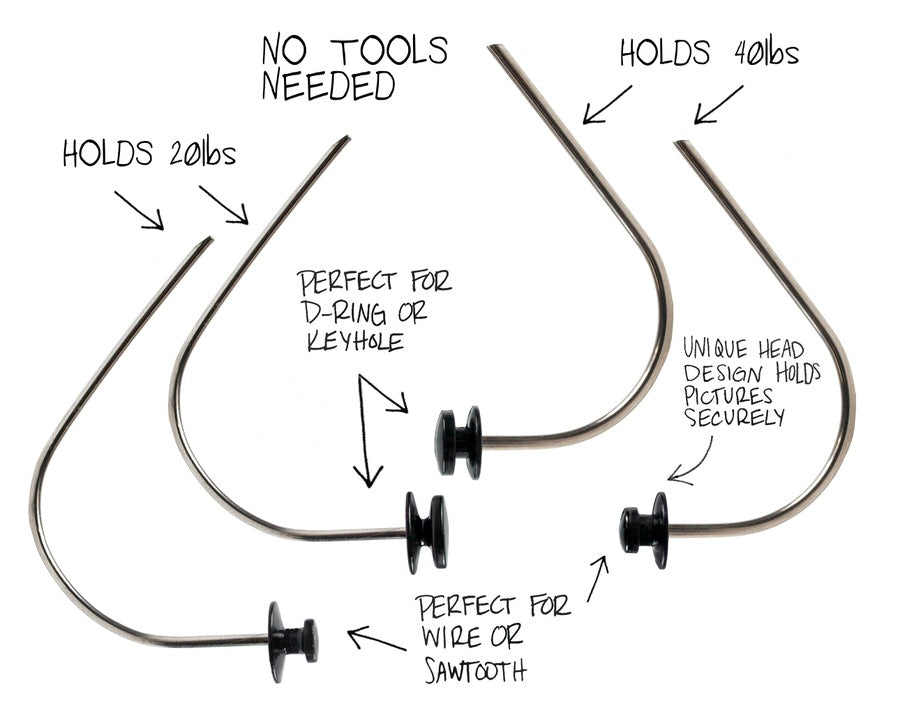 Looking for a secure way to hang your wall decor without any tools? DécoHooks™ are designed to install in drywall quickly, and the patented head design ensures that your wall décor is always secure.
Hang in drywall—no tools needed
To install DécoHooks, push and twist the hook into the drywall, then simply turn the hook upright and push it in until its head is flush against the wall. Check out this video to see how they work.
More secure than a regular nail
Thanks to its curved shape, the tip of the wire of the DécoHook presses into the back of the drywall giving the hook a strong hold to safely secure your item to the wall.

Please note that these hooks require that the area behind the drywall where they are being installed has room for the hook, so they cannot be installed over top of a wall stud, or in plaster walls.
Removing and reusing is quick and easy
Removing DécoHooks is as simple as pulling it out in the reverse way that it was installed, and it only leaves a tiny hole. If you need a little help to get it started, slide the tip of a hammer claw under the head, and gently pry it away from the wall to get extra finger grip. Now you can use your fingers to pull it out the rest of the way. DécoHooks are reusable, so keep them handy until your next picture hanging project.
Designed to be versatile and secure
DécoHooks come in two head shapes: small and large. They are designed to work with all types of hanging hardware including: picture wire, sawtooth hooks, D-rings and keyhole hangers. The small head is particularly well suited to work with D-rings and keyhole hangers. The large head is ideal for picture wire and sawtooth hangers. The patented design of the DécoHook head creates a groove in between the back of the head and the wall to make sure whatever you hang on it, stays there. 

DécoHooks also come in two weight options so you can confidently hang anything from a light frame to a heavy mirror. Choose either the 20 lb or 40 lb hook depending on the weight of your item.
Works together to make picture hanging easy
All of our wall décor products are designed to work together to create a system that allows you to quickly and accurately hang wall décor in exactly the right spot, without any guessing, measuring or mistake holes. Use the Hang & Level picture hanging tool to mark exactly where the DécoHook goes into the wall. Once you have installed the DécoHook into the wall, your picture will hang in exactly the same spot, every time.

We love designing products to make decorating easy. Click on the live chat below or email us at: questions@utrdecorating.com, and we'll do our best to help you Create the home you love™

-The UTR Team