How to transform walls from boring to WOW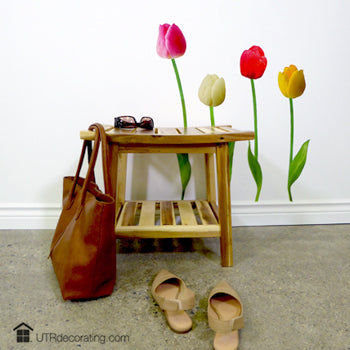 Fifteen minutes is all it took to create a tulip garden with stickers to define a small space into a drop zone perfect for a purse, shoes and sunnies. Wall stickers are a great way to freshen up your space without too much commitment or fear of messing up your walls. It's the ideal decorating solution if you're renting, live in a dorm room or if you like to change up your décor often.
By the way, there are no tools needed which makes this DIY super easy and quick. 
Here's how I transformed a boring white wall into a "wow, how did you do that" space?
Start by placing your furniture, in my case it's a small asian inspired wooden stool.
Next, layout your stickers on the floor. I had 14 pieces altogether including 4 tulip heads, stems and leaves. I started by sticking the yellow tulip to the wall, then red, white and pink. I didn't want the pink and red flowers close together so I placed the white one in between. Also, (to be completely honest) they were displayed in that order on the packaging which I quite liked.
I started by placing the leaf right against the baseboard to make it look like the tulip is growing out of it. Next, I placed the stem and realized that it looked better when placing it under the leaf so I peeled the leaf 1/2 way down to fit the stem underneath and repositioned both on the wall. Easy peasy.
Tip: Don't press hard on the sticker when you first position it on the wall just in case you need to unpeel it like I did a few times.
When sticking the pink tulip, I felt that the stem was too tall in comparison to the other ones so I cut it and saved the cut part to use in another DIY.
Tip: Stick one flower at a time, step back to determine the height of each one and how close together you want them. It's easier to remove one sticker than a bunch of them. That said, don't be afraid to play around with the angle of the tulip heads to get the perfect tilt, have fun with it.
By the way, you don't have to use all the stickers, use only one flower if that's all you need to add a punch of color to a room and save the others for future projects.
Accessorize and you're done! Voilà, the perfect spot to kick off your shoes after a long day.
Pros of using stickers:
Easy to apply and remove
No tools needed
No holes in walls
Inexpensive
Allows for frequent décor updates
Cons:
Can't think of any at this moment
Warning:
I had so much fun playing with these wall stickers that I was ready to add them everywhere. Control is needed, too much of anything is bad for you and for your house.
Difference between a wall sticker and a decal:
 After googling it, I realized that either word is used to describe the same product.
For the sake of this post, I say "sticker" because the company I purchased the stickers from refers to their product as stickers.
Advice:
Buy patterns that are simple versus intricate. At first, I was going to decorate with the daisy but I realized that each petal needed to be carefully peeled off one by one to get the flower off the contact sheet which was too much work and fuss for me. I switched to the tulips where the heads came off in one simple peel, the same for the stems and leaves.
The decals I bought were on a flat sheet, and were easy to peel off.  When packed in a roll they might have to be flattened a bit before using. I'm just guessing, but if you've bought and tried stickers in a roll, please let me know how they turned out.
The decorating possibilities with stickers/decals are endless: use them in a kitchen, bathroom, bedroom, hallway, office etc. They also come in a wide range of size, color, shape, style and price (of course). The tulips I used are from Smartdeco. Stickers are widely sold at stores such as Target, Micheals, and Bed Bath and Beyond.
Do you have any tips to share on how to decorate with stickers?
Liette Tousignant
Co-Founder of Under The Roof Decorating