How to make large paint color samples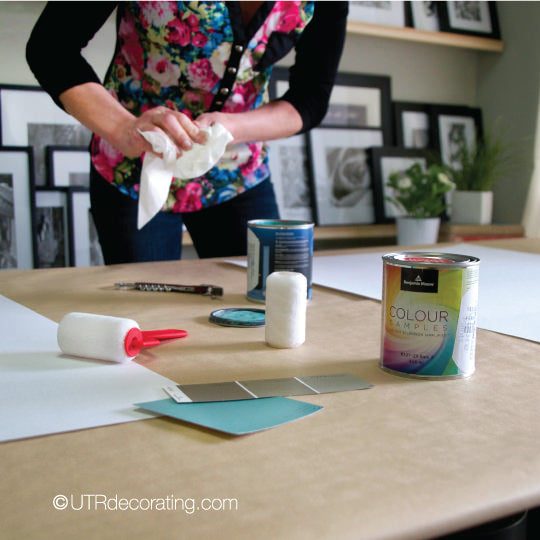 I usually start a painting project by shopping for colors, either looking at paint swatches from a DIY store or flipping through a color fan borrowed from a paint shop. But honestly, choosing a color for your walls from such teeny tiny paint color chips is almost impossible. What I'd recommend is that once you've narrowed down your choices to two or three colors, make large paint color samples to help confirm your color choice and to let yourself paint with confidence.
Large color samples also allow you to move them around a room or from room to room to check how the color looks at different times of day and under different kinds of lighting.  Note that some paint stores offer large swatches, but the selection is usually very limited, which means that they'll most likely not have the color you want.
To get started, I covered my table with brown construction paper to avoid making a mess. You don't have to worry about splashes from the paint rollers — they're so small that they won't be a problem.
What you'll need:
Poster board. I used 22″ X 28″
Paint. I used Benjamin Moore  Antiqued Aqua CSP – 705 and Rockport Gray HC-105
Small paint rollers: one for each paint color
Bottle opener or screw driver to open the cans
When painting, don't load the rollers too thickly with paint, hoping that you'll be able to get by with only one coat. One coat of paint is simply not enough — the white paper will still show through and you won't get an appreciation for the actual color.  Since the paint dries quickly, it will only take about an hour to get the two coats of paint done, including a half hour between each coat for drying.
To keep things simple I dipped the small roller directly in the paint can, let it drip, and started rolling. Try to roll evenly and always in the same direction to avoid any streaking. I was surprised at how well the small rollers worked — I was able to paint each poster board fairly quickly. During the drying period, wrap the rollers in plastic bags to prevent them from drying out. After two coats of paint, the poster boards started warping a bit, so I'd recommend using thicker paper or to paint on foam boards. That said, if the warping doesn't bother you, regular poster boards are fine
The person I spoke with at Benjamin Moore told me that the color from the pint of paint is 95% accurate to the color found in a gallon of paint. That was good enough for me. Once you've done the large samples, if you don't like the color, try another. You shouldn't have to live with a color you don't love 100%. In the end, making large paint samples is quick, inexpensive, and much cheaper than having to repaint an entire room because the color chosen from a small sample didn't turn out as you'd expected.
Have you ever made your own color swatches? If yes, are there other tips you'd like to share?
How much it cost: (in Canadian dollars)
Poster boards: $6.70 for a pack of 10 at 

Staples 

Paint: $8.99 for 1 pint  (16oz) from Benjamin Moore
Rollers (2): less than $5
Thanks for dropping by!  Talk to you soon.
Liette Tousignant
Co-Founder of Under The Roof Decorating
Make sure to sign up to receive our decor and design blog posts delivered straight to your inbox