How to Install D-rings on a Picture Frame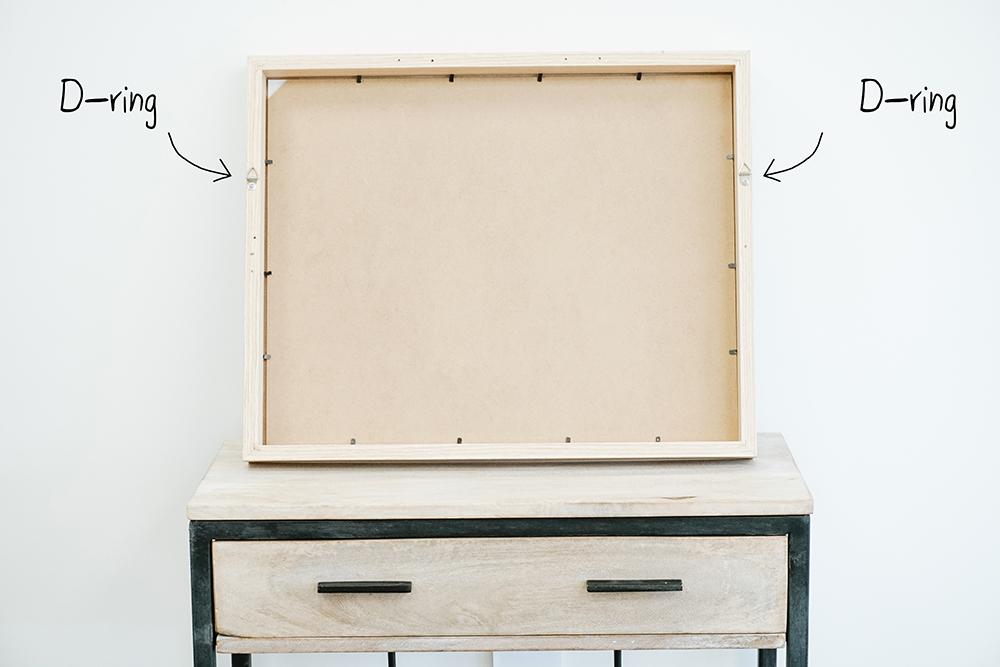 Don't you hate it when you buy a picture frame and realize it has no hardware? 😩 You're not alone. Don't worry, we'll show you how to install D-rings on your frame in a few easy steps!
Step 1: Know which edge is the top 
Sounds silly, right? Well, you wouldn't believe the number of times we got this one wrong! D-rings are installed on each side of the back of the frame and closer to the top than the bottom. Make a mark on the back of the frame to indicate the top of your frame so it's easy to remember the orientation of your image.
Step 2: Measure the length of the frame
Here's where we do some simple math. To find where to put the D-rings, you'll need to measure the length of the frame and divide it by three. Use this number to measure from the top and mark the spot with a pencil—that's where the D-ring goes. Measure and mark the other side of the frame in the same way. The total length of our frame is 16.5". Here's the math: 16.5/3 = 5.5. And 5.5" is the distance from the top where the D-ring goes. Although we say it's simple math, we still used a calculator. No harm in double checking!
Step 3: Install the D-rings
Center one D-ring with the width of the frame, and align the screw hole over your pencil mark. Keep the ring triangle facing up. Use a screwdriver to screw in the D-ring. If the wood is hard you can use a small drill to start the hole, but it shouldn't be necessary for most frames. Repeat this to install the second D-ring on the other side of the frame. It's that easy. Now you're ready to hang your frame. 
Quick and easy way to hang frame with D-rings
Hanging a picture that uses D-rings can be tricky. We designed our Hang & Level™ picture hanging tool so it marks exactly where to put the nail without measuring or making mistake holes. It works with D-rings—and also sawtooth hangers, keyhole hangers and picture wire. Watch this short video to see how quickly we hung this picture using Hang & Level. 

If you prefer using picture wire, you can add it to the D-rings. Remember to leave a little slack in the wire so it creates a small peak when it's hanging on the nail. Curious to see the final space we created? Check out our blog for how to steps and decorating tips.
We love designing products that make decorating easy. If you have any decorating questions for us, click on the live chat below or email us at: questions@utrdecorating.com, and we'll do our best to help you Create the home you love™

-The UTR Team