How to hang wall décor in a bathroom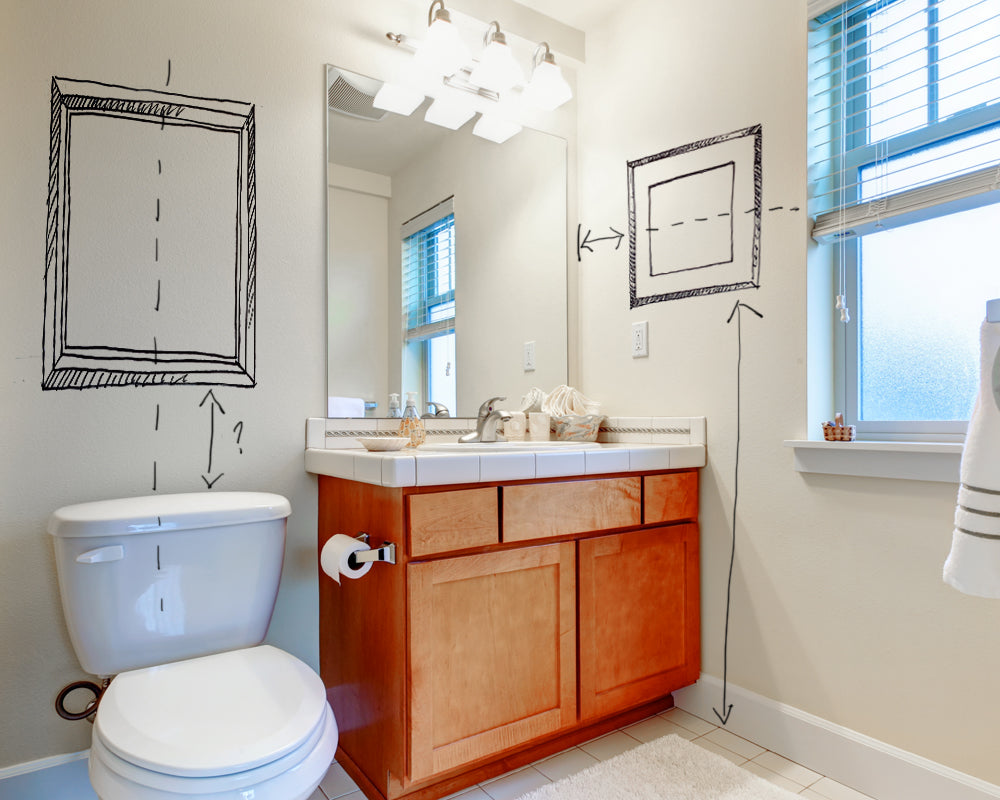 Wall décor and artwork belongs in every room of the home - and this includes the bathroom, too. We've taken some of our best decorating practices and tweaked them to meet the unique challenges of hanging décor in a bathroom. Follow these decorating guidelines and tips to make it easy to hang your wall décor in the right spot to complement your bathroom features. 
Choose a spot for art and wall décor
Even though the bathroom is often a small space, there are plenty of spots to hang artwork. Every bathroom is designed a bit differently, so choose a location for a piece that makes the most sense to you based on how the room is set up and how you use it. 
You can hang artwork above any of the features in a bathroom, such as towel bars or a sink, tub, and yes, even a toilet. There may also be empty spaces opposite the toilet or on the wall opposite the sink and mirror. Often there is wall space behind the door. If you choose this location, just make sure that there is a door stop installed so your wall décor doesn't get damaged. 
Bathrooms are one room of the home where you are almost certain to find a mirror. It can be fun to hang something on the wall across from a mirror as it will be reflected and you'll see the picture from two directions. Mirrors are a great way to make a small space appear larger, and they brighten an area as well.
Tip: Once you know where you want to hang wall décor, you can use a single item or curate a grouping of items that work together to fill the footprint.
Select the right size art
Now that you have the location where you want to hang your wall décor, you are ready to select the size of art that will work best in the spot. A general decorating rule is to fill a minimum of ⅔ of the length of the space above a feature, and this works well in the bathroom, too. Here's a few examples. When hanging above an item - like a towel bar, select a piece that is a minimum of ⅔ the length of the bar. It's ok to hang something that is as wide or wider than the feature as well. The same rule can be used for hanging items on a wall - choose an item or grouping that fills at least ⅔ of the width of the wall.
Tip: If you have two or more towel bars, then consider the space above each individually and hang two items, or alternately, add up the entire length of the bars and the space between them, and fill at least ⅔ of it with a single piece or grouping.
Hang at the right height
The bathroom is a unique space to decorate because you are often very close to the art. So, it is usually best to hang your art at eye level from a standing position. Generally, this is about 60 - 66" from the floor.
Also we need to ensure art is hung high enough above any bathroom feature to not interfere with its use. For example, leave enough room above a towel bar so that when the towels are used, we don't bump the artwork. Similarly, when hanging something above a tub, hang it to avoid any water splashes.
Tip: Have a friend hold the décor item at a few different heights and take a picture of each. Compare the different options from a digital image, which provides a new perspective. It's surprising how you'll notice things in a picture that were not seen before.
Center items above a bathroom feature
When hanging items above a feature, like a towel bar, center the item so it looks balanced. If there is something off center - we notice it right away. Here's an easy way to find the right spot. Find the center of the picture and the feature, and mark each with a small strip of Painter's tape. Line up the pieces of tape and two items will be centered.
In the image above we lined up three centers: the towel bar, the picture and the adjacent mirror. In this case, we put tape marks on two sides of the picture to indicate the centers. We used our picture hanging tool, Hang & Level™ to make it easy to mark exactly where to put the nail.
Tip: We design products that make picture hanging easy. Visit our online store and browse our full line of products.
Damage control
Bathrooms are areas of high humidity, so it's important to consider how moisture will affect the items you hang. You may want to select artwork that you can easily replace and leave your precious items for other areas of the home. Even wood, whether it's made into an accessory, part of a frame or a wall décor item, like a sign, can absorb moisture and expand. To avoid any disappointment, only hang and accessorize with items that you are willing to replace at some point.
Tip: If you use hair sprays or a blow dryer, it's also important to consider what you have hanging directly across from your mirror. 
Don't leave the bathroom out when decorating your home! We spend time in our bathroom every day - so why not make it a space where you love to be. Show off your personality by choosing wall décor that speaks to you. And, find and hang items that make you feel good.
We love designing products to make decorating easy and help people create spaces that bring them joy. Click on the live chat below or email us at: questions@utrdecorating.com, and we'll do our best to help you Create the home you love™
-The UTR Team