Hang pictures securely without nails or tools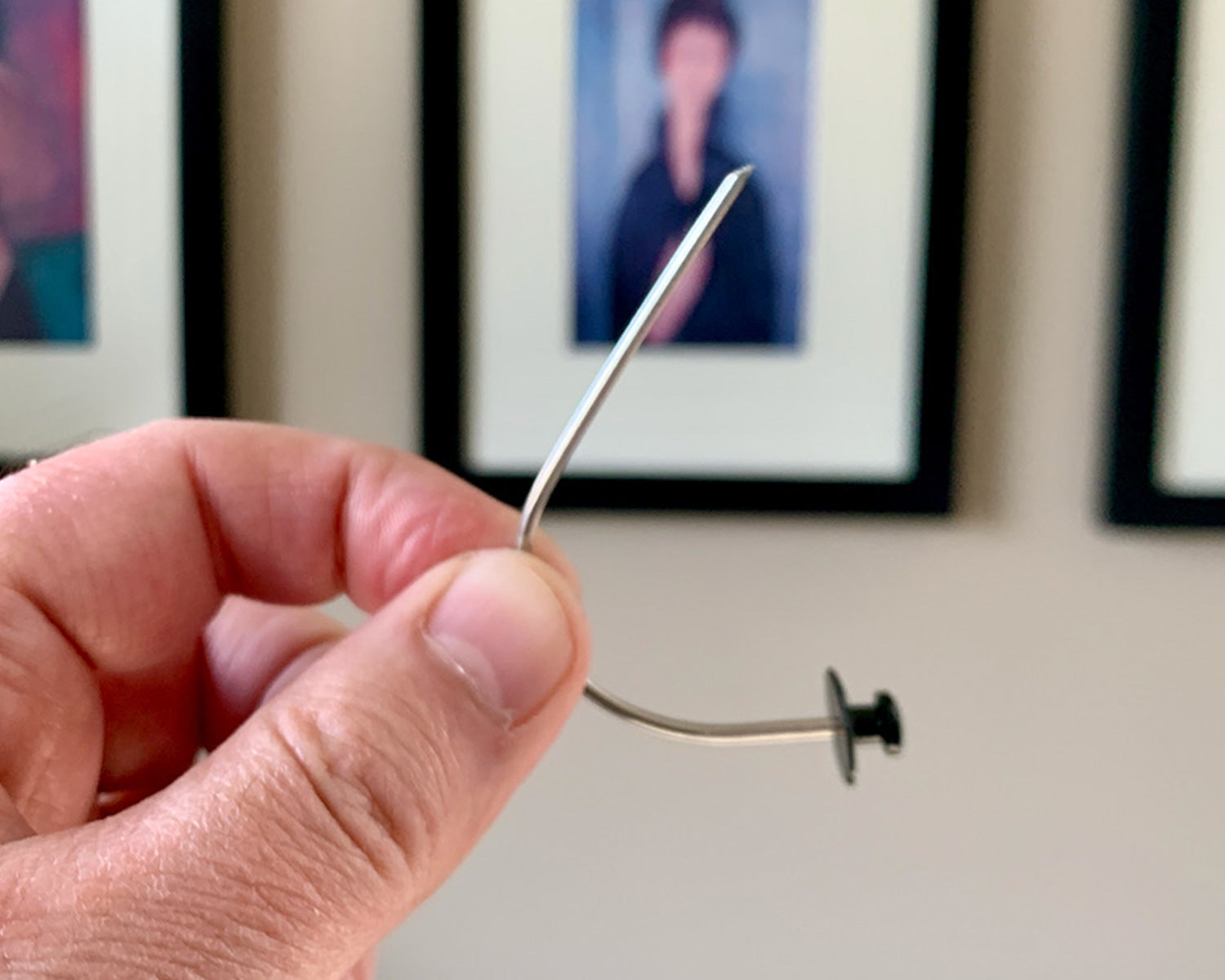 You want to hang a picture or your new wall décor, but you don't have any tools handy. No worries. DécoHooks™ are designed for use in drywall, and are quick and easy to install with your fingers.
Easy installation
Push the tip of the hook through the drywall by twisting it back and forth. Once it's through the drywall, turn the head upwards and push into the wall until the head sits flush against the wall. That's it. You are done in seconds. Watch this video to see DécoHooks in action.
Designed for a secure hold
No one wants their art to fall off the wall. DécoHooks' patented head design includes a groove to securely hold any of the standard hanging hardware used on wall décor. And, they work with all standard hardware, including: picture wire, sawtooth hooks, D-rings and keyholes. They come in two head shapes—small and large. Choose the version that works best with your wall décor. Generally, the small head works well with keyholes and D-rings, and the large head with picture wire and sawtooth hooks.  
Use in drywall 
Décohooks are designed for use in drywall where there is room for the curved hook behind the wall. They will not work in plaster or on top of a stud. Tip: If you want to find out where the studs are without using a stud finder, tap your knuckle in small increments against the drywall in a horizontal line spanning about 24" wide. The sound will echo until you tap over a stud (2") where the sound becomes a dull thud.
More secure than regular nails
DécoHooks are more secure than a regular nail. The curved shape presses against the back of the drywall and results in a secure hold. DécoHooks come in two weight options so you can confidently hang anything from a light frame to a heavy mirror. Choose either the 20 lb or 40 lb hook depending on the weight of your item.   
How do you know where to put the DécoHook? 
Hang & Level™ marks exactly where the nail goes without any measuring or mistake holes. Use it with any of your wall décor to find the spot on the wall where it looks best and then press the button to mark the exact point where you need to install the DécoHook. 
Do you have any other decorating questions? Click on the live chat below or email us at: questions@utrdecorating.com, and we'll do our best to help you Create the home you love™

-The UTR Team