How to Hang Pictures with Two Sawtooth Hooks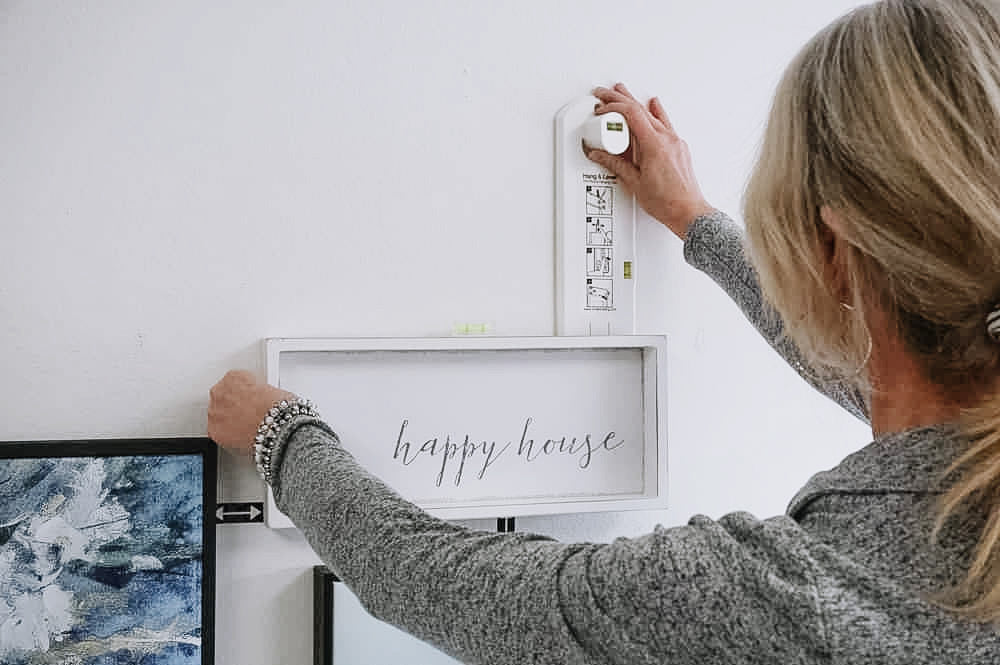 Hanging pictures with multiple hangers can be a real pain in the butt. There, we said it but with the right tools, it can be a breeze! Hang & Level™ is your decorating partner that allows you to hang your pictures all by yourself without relying on your actual partner for help.  
Watch this video below or follow this step-by-step guide on how to hang your picture frames flawlessly using Hang & Level. 
Our Happy House frame came with two sawtooth hooks and it took almost no time at all to hang. Don't be intimidated by the number of steps though! It's easy and straightforward.
1. Pick a side to start on first - left or right doesn't matter.
2. Put the sawtooth hook on the single hook of Hang & Level. 
3. Find the right height where you want the frame to hang.
4. Remove the frame from the wall, while keeping the tool in place. Press the button to mark the spot.
5. Hammer in the nail on the spot you marked on the wall. We used DécoNails™, which are designed to perfectly fit sawtooth hooks and D-rings.
6. Hang the sawtooth hook on the nail on that side of the frame.
7. Hang the other side by putting the other sawtooth hook on Hang & Level. Use the MiniLevel™ to get the frame straight.
8. Hammer in the nail.
9. Hang your frame.
How easy was that? As you can see, what you do to one side, you do to the other. Now you know how to hang stuff the easy way and you'll never go back to old picture hanging habits!
Shop online for Hang & Level today. Curious to see more of this stunning gallery? Check out our blog on how to hang pictures above a bedroom dresser.
Let us know what your most recent decorating project is. Leave a comment down below. Thanks for hanging around!