How to hang pictures – hang them right the first time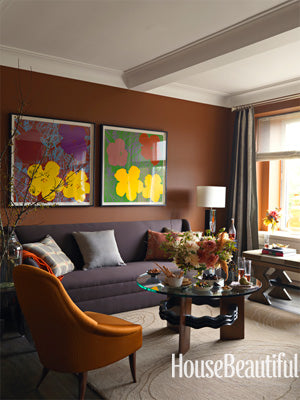 If you just moved into a new home, redecorated or recently painted your walls, there's a good chance you'll have to hang some pictures. But before you start hammering, be sure to check out these tips. They'll save you time, frustration and potential mistake holes too.
Get organized. When moving in to a new space, consider grouping your art together in a hallway or in a room away from the traffic area. Group like items together such as mirrors, photos/portraits, paintings, kids' art and clocks.  When you're ready to hang stuff it will be easier to find the right shape, size and colour of art you need for your new walls. It will be like shopping in your own little store.
Map it out. Art is an extension of your furniture, so place your furniture exactly where you want it before you start hammering nails in your walls.  And by furniture we mean everything from armoires, hutches, pianos, bookcases, sofas, desks, floor lamps, table lamps… well, you get the picture.  As for accessorizing, it's the last step in the decorating process, so don't fuss over it until you're done hanging your wall décor.
Keep it simple. Be aware of the scale of your furniture when deciding what will hang above it. Remember it is all about balance. The goal is to enhance the room, not create a sense of overwhelm. The rule of thumb is easy: small pictures over small pieces, and big ones over large pieces.
Consider the shape of your walls and place pieces to fit the space. Like attracts like. For example, a tall vertical piece perfectly complements a tall wall space.  Similarly, a horizontal wall will shine with a horizontal piece or a horizontally flowing arrangement.
Centre it. If you're hanging artwork in a hallway, front entrance or any other place where it'll be viewed from a standing position, hang it so that the centre hangs approximately 60" to 66" from the floor.  This rule never fails.
Hang it where you can see it. In rooms where you spend most of your time sitting, your art should be hanging lower. You want to enjoy it without having to look up. Have someone hold your art while you sit; it will definitely be helpful in finding the right height.
Keep it low. It's a common mistake, but most people hang a piece too high above a piece of furniture. To keep the look seamless, place art at a level that gives the illusion of connectedness to the furniture. You don't want it to look as though it is floating away.
Take a second glance, especially before hanging a mirror. The reflection should be esthetically pleasing. A messy kitchen, a doorway or a blank wall just won't cut it.
Make sure to use the right hanging hardware to support the weight of your pieces.  Anything light can be hung with a single nail, hook or screw while heavier pieces may need two of each. In some cases, it's best to use wall anchors. They make big holes but you need to think about safety first.
Have the right tools ready and you'll get the job done faster and better.  Tools such as a hammer, a variety of picture hanging hardware, pencil, measuring tape, painter's tape, step stool, picture wire and a Hang & Level (of course). You may not need them all but it's best to have them handy.   And, you can check out our website for some really great products that will make the job so much easier.
Rehang if you are not happy with the first result. Don't live with it simply because you don't want to put another hole in your wall – that's easy to fix. Simply hide it behind the frame.  If you don't fix it right away, it will always bug you.
Shake it up. Try something new. Don't try to rehang everything the way it was in your previous home. Wall sizes and shapes will be different, so be adventurous create a new look!
Have fun with it and let us know how your project turns out!
At Under The Roof Decorating, we make picture hanging easy. Our innovative products as well as helpful tips make it simple to hang pictures where you want them – the first time!