How to hang stockings from a mantle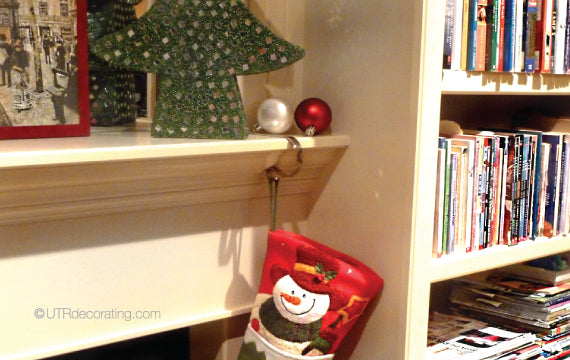 I did a little investigating over the weekend to search out the most popular Christmas stocking hangers sold in retail stores and almost all of the large DIY stores carried both weighted stocking hangers and mantle clips, each of which have their own advantages and disadvantages. You should choose a hanger depending on your needs: i.e. whether it's for decorating purposes only and/or for safety purposes.
Here are some tips to help you figure out which stocking hanger is the right one for your mantle?
The weighted stocking hangers:
These stocking holders are weighted so they can hold full stockings from the mantle.
They come in a variety of designs, themes and materials (cast iron, pewter, bronze and more)
They're very decorative
Each hanger weighs one pound or more
They're available in packs of one, two, four or more
The hangers can safely hold empty stockings
They have a slip resistant foam pad on the bottom to protect the mantle surface
Disadvantages:
Heavy stockings may cause them to tip over
If children pull on the dangling stockings the heavy holders could fall and hurt them
The stocking mantle clips:
The clips are made of sturdy metal that can fit almost any mantle design.
The clips can hold up to 10 lbs
They're made of sturdy metal
The straight part of the clip measures 4.75", which provides a good support to hold heavy stockings
They have clear grippers to hold tightly onto the mantle and protect the mantle's surface
The clips fit almost any size of mantle
They're very discreet and can easily be hidden under a garland, greenery, or any other Christmas decoration
Disadvantages:
They're fairly plain looking
The clips come in a limited color selection
Hang it safe:
If you own a wood-burning fireplace, avoid placing stockings and garlands too close to the hearth as they could catch fire.
Do you hang Christmas stockings? If you do, what kind of hanging hardware do you use?
Liette Tousignant