How to hang a large canvas all by yourself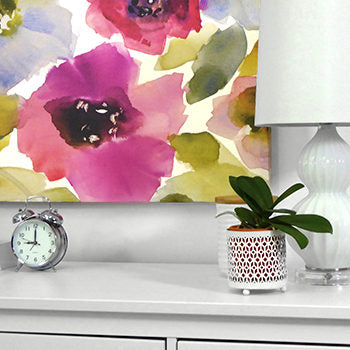 I love hanging stuff by myself because I don't have to wait for help. When I buy something for my walls I usually hang it up right away. None of that nonsense where things sit on the floor for weeks before it gets hung. Having the right tools and hanging hardware sure makes the job easy. Now, let me show you how I hung this large canvas all by myself – within minutes. My secret? CanvasHangers!
Here's what I started with
First things first!
How high should I hang my canvas?
BTW, the number one question I get on social media is "How high should I hang my pictures?" The same guidelines I use for pictures apply to canvas, too.
Higher? Lower? Is it OK here? 
After testing different heights, I ended up hanging my canvas approximately 5 inches above the dresser. I like how it looks. It feels airy, and I enjoy seeing the entire canvas as the bottom is not covered by the small dresser accessories.
How I hung my canvas
Once I figured out where to place my canvas, hanging it was the easiest part. My secret weapon? CanvasHangers. I placed one in each top corner and secured them by hammering the outer pins into the frame. Next, I centered my canvas over the dresser and once it was in the right spot, I pushed the entire canvas into the wall. It's so easy, just watch the short video below and you'll get it.
The beauty of the CanvasHangers is that they work with any size of canvas, big or small. They also hold up to 20 lbs, which is a lot of hanging power considering that the average canvas weighs about 5 lbs. Surprisingly, my large floral piece weighs only 3 lbs. Who knew!
Here's how it works:
Often a large canvas can be awkward to hang by yourself because it can be as wide as your arms can spread open, but I didn't have any problems getting it on the wall. All I had to do was to push the Hangers in place, that's it. There was no need for complicated measuring, which is good because math is not my strong suit….sigh!
Looks great vertically too! 
The neat thing about my canvas is that it can be hung either vertically or horizontally. The thought never crossed my mind when I was shopping that it'd look great in either direction. Now I love it even more because it's so versatile. It will be easy to find a new spot for it once I get tired of this look.
So ladies and gents, if you have a canvas or two sitting on the floor waiting to be hung, I hope this article empowers you to get them up on the wall ASAP. Check our online store for more information on CanvasHangers. Tell your friends about them, they'll love them too.
Do you have any picture hanging tips? Go ahead and share them in the comments box below so we can all learn from each other and become fearless decorators.
Thanks for dropping by! Talk to you soon.
Liette Tousignant
Co-Founder of Under The Roof Decorating
Make sure to sign up to receive our decor and design blog posts delivered straight to your inbox
Reviews (1 comment)