Hanging a Heavy Clock with Hang & Level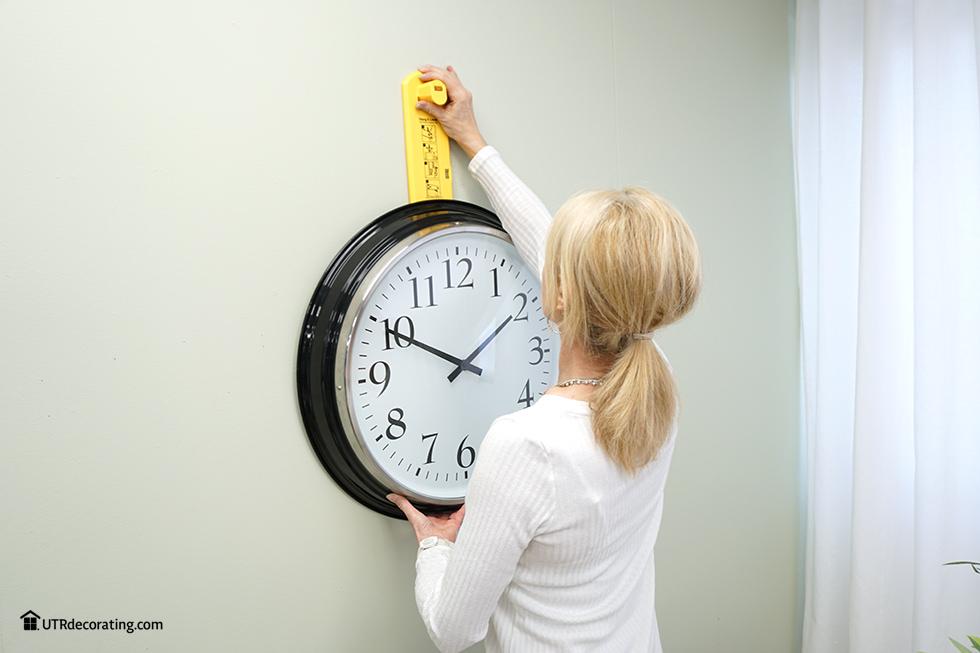 Whether you're by yourself, or with a partner, hanging a large and heavy clock can be a real struggle! Since most clocks come fitted with a keyhole, it can be nearly impossible figuring out how or where to hang it to achieve your desired look. Admit it- we've all winged it just to get the job done, right? That being said, there
is
a quick and easy way to deal with all this complicated hardware. It's all about owning the right tools! With the help of the handy
  Hang & Level
, our clock was up on the wall in minutes.
(Tip: Before hanging your clock, make sure to insert the batteries and set the time. Otherwise you'll have to take it down and re-hang it like we did! Oops!)
After gathering all of the supplies needed for this project, you are ready to dive into the next steps!
Hung with Hang & Level:
The single hook on Hang & Level fits perfectly in the keyhole, allowing you to find the best possible placement. There is also no need to worry about scratching the wall while using the device, as rubber pads on the back protect the surface from any damage during use.
How High to Hang the Clock:
The key is to make sure the clock is high enough to see the time from a distance, but also placed close enough to the table and chairs to connect those elements together.
If possible, have someone assess the height of the clock while you raise and lower it until the perfect spot is found. Once you've made the final decision, remove the clock from the tool while keeping Hang & Level  against the wall. Press the single button where the clock was hanging from on the tool to mark the exact location where the screw will go.
Studs are rarely ever placed where you need them to be, which is why using the right hanging hardware is so important. Using the screwdriver, fasten the screw into the spot until its head is flush with the surface of the wall.
We used a DécoScrew to hang our clock because it not only easily fits into the keyhole, but the shape of its head is made to prevent slipping. Designed as a screw and an anchor in one, heavy pieces are easily secured without leaving large holes in your wall. One screw by itself can hold upwards of 30 lb, so our 7 lb clock is more than safe to use here!
Once finished, you can now take the final steps. Hang your clock, make sure it's straight, and you're done!
Doesn't this space make you want to curl up with a good book? To see the 'before and after' transformation for this cozy breakfast nook, click here!
For those of you who like measurements:
The clock is hanging 1'5" (17") from the table top

The clock is hanging 3'9" (44") from the floor
If you'd like to buy any of the products used in this article, head over to our online store.
Thanks for dropping by!