How to fill a large wall with canvas art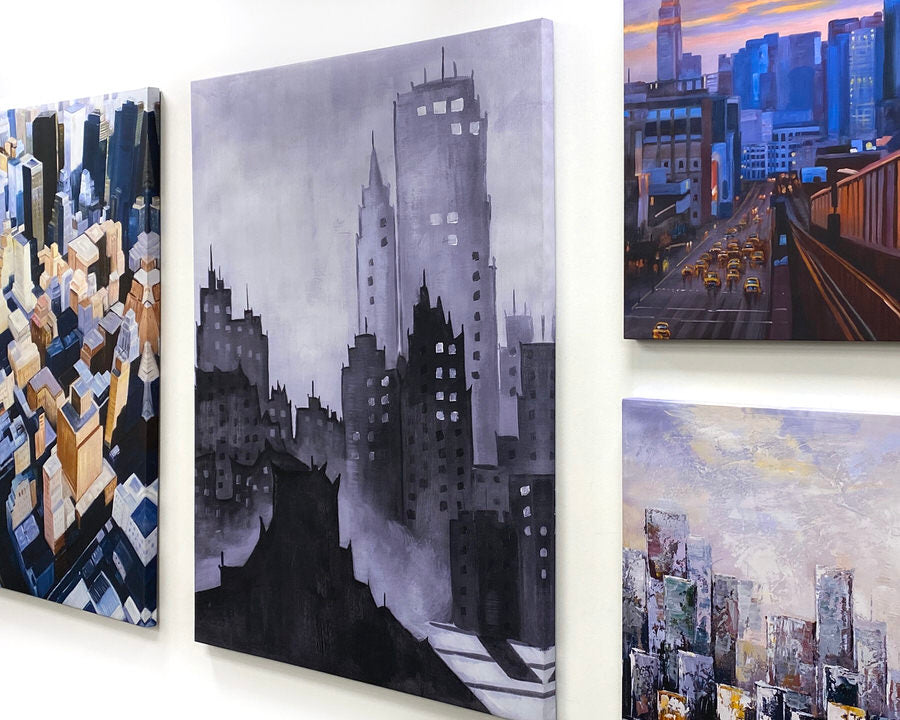 Using canvas art to decorate a large wall is an excellent choice. It is affordable, readily available in store and online - and there are endless images to suit every style and whim. Read more to find out how we decorated this large feature wall with 4 big canvases - in minutes.
Choose a theme
When combining more than one piece of art on a wall, it's a good idea to have a theme for the images so they all tie together. Our theme for the big wall is 'abstract cityscapes'. We were inspired by the variety of viewpoints and complementing colors with each piece. 
Select a layout
Lay your canvases on the floor and try different arrangements until you find the layout that is most pleasing to you. It's important to keep the items close enough together so that the eye easily flows from one image to another. Generally on a big wall, a distance of 2 - 8" works in most cases. We decided 8" between the large canvases, and 5" between the two smaller canvases looked the best. 
We had four canvases in two different sizes - 4' x 5' and 3' x 3'. Given it's natural for the eye to move from left to right, we put the largest pieces on the left hand side to anchor the entire grouping. This is one way to approach the arrangement. When you're creating your own layout, choose what you like best!
Group items as one unit
Think about your multiple pieces as one unit. When we combined our pieces together they became a large rectangle. Seen as a single unit it was then easy to figure out the space we needed at the top, bottom and each side of the wall. We centered the rectangle so there was equal distance on each side, and with a smaller space on the top than the bottom.
A simple way to hang canvases
It took only minutes to hang all four canvases and decorate the entire 20' x 9' wall using CanvasHangers™. We designed CanvasHangers to make it easy to securely hang canvas into drywall. They'll hold any size canvas including large ones over 60" (5') wide, assuming they are under the recommended 20 lb weight limit of the hangers. Most canvases, including very large ones, are under 6 lbs. For comparison, a gallon of milk weighs about 8 lbs.
To begin, we marked the heights for one large and one small canvas, and then using our layout guidelines we visually hung all the canvases in minutes. Watch this video to see how we did it. 
Check out these blogs for more decorating inspiration:
Decorate Your Walls With Large Canvas Art
We love designing products to make decorating easy. Click on the live chat below or email us at: questions@utrdecorating.com, and we'll do our best to help you Create the home you love™
-The UTR Team