Holiday tradition: making tourtières with friends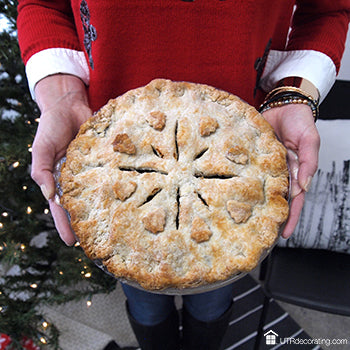 Every year, on the last Sunday of November my friends and I get together to
make tourtières
. It's our way to kick off the winter and holiday season. We usually freeze them until Christmas Eve, so we have a quick and easy meal ready to eat with our families. The only problem is that this year, I couldn't resist the savoury aroma and ate half of mine already. I'm sure I'll regret this in a few weeks but it was so good! 
Even the deer in the snow globe wants a slice. The tourtière (meat pie) looks much better in person and too bad you can't smell it through these pictures. It smells heavenly. 
Here I am feeling guilty as I'm eating my tourtière before the big day but enjoying every bite of it. Life is too short, gotta live a little. 
We all make our pie dough at home so it's ready to be rolled when we're together. We always pair up in groups of two to make our large pots of meat. We chop onions and garlic and mix that in with the meat, bread crumbs, and lots of savoury spices. We roll the dough while the meat is cooking, and get our dough decorations ready, including Christmas trees, snow flakes, reindeer, bells and more. We clean up as we go so we don't end up with a mountain of dishes by the time we're done.
So here's what we did:
P.S. The music in the video is by Ginette Reno, a musical icon in Québec that I grew up listening to and still love today. Song: Vive le vent! (In English, it's Jingle Bells)
Ta da!  Here we are with our unbaked tourtières ready to be frozen, and then cooked on Christmas Eve. Taking a picture of seven women can be challenging – this is the best snapshot I have. But trust me, we're even more beautiful in person. Karen and I (in red plaid) removed our aprons a little too early (mine was all covered with flour). Left to right, Cathy, Shirley, Anne, Carolyn, Pam, me and Karen.
The recipe we've used for the past 21 years comes from my friend Anne's mom, Rita Carey. It's her family's traditional tourtière recipe that has been passed down from generations in Shawinigan, Quebec. We are happy to share the recipe with you, as it is exquisite.
Rita's Tourtière Recipe
 1 1/2 lb. ground pork
1 small onion, minced
1 clove garlic, minced
½ tsp. salt
½ tsp. savoury
¼ tsp. celery salt
¼ tsp. cloves
1/4 tsp. cinnamon
½ c. water (enough to cover 3/4 of the ingredients)
¾ c. breadcrumbs
Pie pastry (double crust)
* I like to add a dash of sage and allspice too.
Place everything except the breadcrumbs in a saucepan.  Bring to a boil and cook 20 min. uncovered over medium heat.  Add the bread crumbs.  Remove from heat and cool until tepid.  Adjust seasoning to taste.
Line 9" pie plate with pastry, fill with meat, cover with pastry and decorate with leftover dough. Cut vents in the top crust with a sharp knife.  Bake at 400 degrees F for 30 min or until brown.  Serve hot or cold.
Double the recipe for a large pie.
If you give it a try, be sure to send me snapshots of your tourtière at photos@utrdecorating.com. I'd love to see it!
Liette Tousignant
Co-Founder of Under The Roof Decorating
Make sure to sign up to receive our decor and design blog posts delivered straight to your inbox.