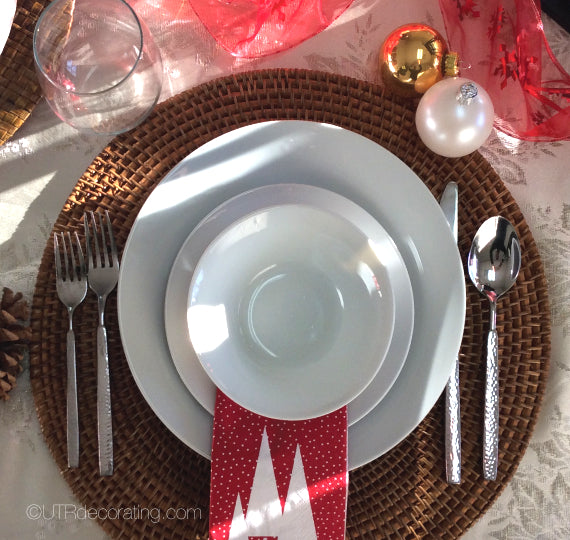 If you're hosting a brunch, lunch, dinner or any other meal during the holidays, make sure to set the right mood for the celebration with a beautifully decorated table. I guarantee that your guests will be impressed, the food will taste amazing served in such a festive presentation, and everyone will be extremely appreciative of all the effort you've put into creating such a cheerful ambiance.
The key to a beautifully decorated table is to start setting it up a few days in advance. This will give you time to think about the look you're after, whether it's chic, formal, rustic, casual, or nature-oriented, and will allow time to look carefully and edit or add what's missing to complete your chosen look. This is a great opportunity to shop through your cupboards and your house and to pull the things that will fit your tablescape.
For instance, here's what I did to transform our office boardroom into a casual nature-inspired theme to host a cozy Christmas lunch:
Draped the table with an off-white tablecloth with a gold and silver glitter thread in it. This created the perfect neutral background to showcase pinecones, wooden Christmas trees, and other nature-related decorations.
Used white dishes because they're classic, timeless, and they reflect light. Also, all types of food look delicious when served on plain white plates.
Used silverware we already had, nothing too fancy, which worked really well with our casual look.
Chose clear stemless wine glasses over ones with stems: I love the look of them and there's less chances of spilling wine.
Placed large round wicker placemats under the plates to break the white on white and to add texture and a touch of nature to our table setting.
Scattered pine cones that I had collected over the summer to incorporate a natural element into our décor.
I brought black metal lanterns from my house to create a focal point in the center of the table.
Wove a large bright red ribbon through the centre of the table to add movement, texture, and instant Christmas cheer.
Scattered small white and gold Christmas ball ornaments for fun and to accentuate the similarly colored thread in the table cloth.
I ended up buying five wooden trees — three tall ones and two small ones — to add height and texture to our centerpiece. Note that they don't get in the way and you can still see folks sitting across the table. The trees also emphasize our nature theme.
Used bright red and white paper napkins with Christmas trees on them to add more holiday cheer to our tablescape.
Our office lunch was a huge success and we all enjoyed sitting around such a beautifully decorated dining table (boardroom table) to share conversations and lots of laughs.
Don't forget to play Christmas music when guests arrive to put everyone into a festive mood and ready to enjoy a delicious holiday meal together.
Bon appétit!
With Christmas Day just around the corner, if you're looking for inspiration to get your dining table holiday ready, head to our Pinterest board and you'll be sure to find what you're looking for.
Liette Tousignant
I'm Co-Founder of Under The Roof Decorating