Holiday DIY: Make Your Own Wine Bottle Covers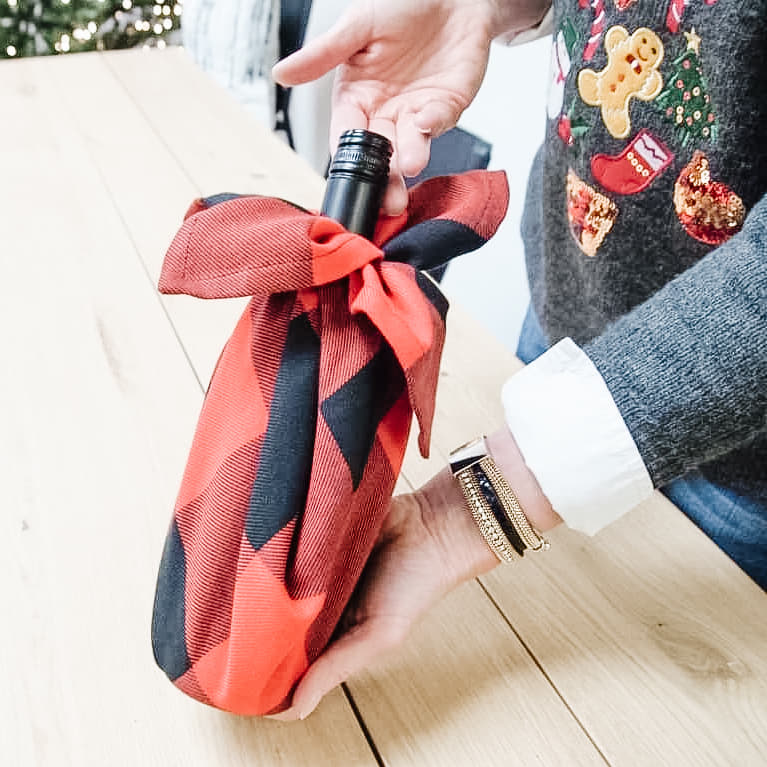 During the holidays, instead of buying traditional wine bags, make your own wine covers to add a personal and festive touch to your gifts! You'll love this DIY because it takes only minutes to make, requires only three things and there are no special skills needed. It's an easy, no fuss DIY. 
We'll be the first to confess we LOVE plaid, especially this Buffalo plaid – the black and red. So when we saw these plaid cloth napkins at 40% off, we bought a few of them without any hesitation. We knew they'd be perfect to make wine covers.
What you'll need
Cloth napkins 20" x 20″ to easily wrap a regular sized wine bottle.


An elastic band.


A bottle of wine.
How to do it
Place the napkin seams down on the table.


Centre the bottle on the napkin (easy with the plaid – place it in the centre square).


One by one gather the corners, pull them up – it'll feel like you're a magician.


Twist an elastic band around just like if you were tying a ponytail.


Fold the tips down to pretty up the top and you're done. Ta-da!
This DIY is so simple, it's unbelievable. The best part is that it's environmentally friendly, it'll get used over and over so no paper bags will end up in landfills, which makes us happy. It also shows your friends that you've put some thought into the host or hostess gift, it's not just a bag that you picked up at the store. We hope your friends enjoy both the wine and wine covers.
Cheers!
If you decide to make your own wine cover, make sure to send us a snapshot of it. Tag us @utrdecorating on Instagram. We'd love to see it!
Reviews (1 comment)