Have you seen the 2018 IKEA catalog yet?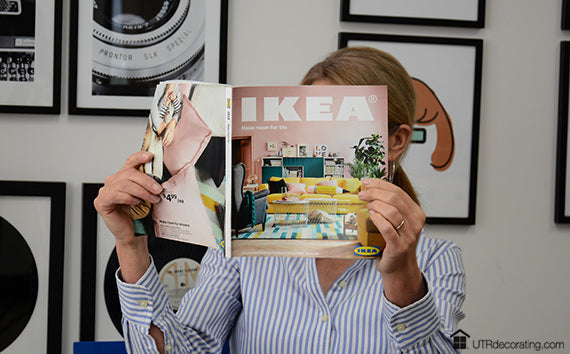 Call me old fashioned, but I still love flipping through the pages of a paper catalog – and that's exactly what I've been doing since the brand new IKEA 2018 catalog landed in my mailbox. As always, it's filled with tons of decorating ideas and tips, how-tos, new products and gorgeous pictures – the kind that makes you want to completely redo your space.
If you have not seen the catalog yet, you can see it right here. If you're like me and prefer the paper version, all stores have them in stock by now so make sure to grab a copy on your next visit. (By the way, this is not a sponsored post, I'm just a big IKEA fan.)
If you've been following my blog for a while, you'll recognize some of the IKEA furniture we've used in some of our articles.
We have this 8 drawer Hemnes dresser which I love. We've changed the knobs to glam it up a bit. You can see the 5 minute IKEA dresser makeover.
We have these grey Marjun blackout curtains which are perfect when we film or take pictures at the office. They truly keep the sun or daylight out. 
The grey curtains are the perfect neutral background for many of our décor articles. You can see them in this video.
Of course over the years we've done our share of IKEA hacks too. My all-time favourite is this IKEA Table Makeover Paint. It's hard to believe it's the same table.
I've already marked my favourite pages with Post-it notes, and I'm planning a trip to the store to see new products and to get inspired by the in-store vignettes. Make sure to check back often – I'll post pictures of my next visit and share my new finds.
What's the best thing you ever bought at IKEA? Please share in the comment box below.
Thanks for dropping by!