Hang Picture Perfect Walls With the Best Tools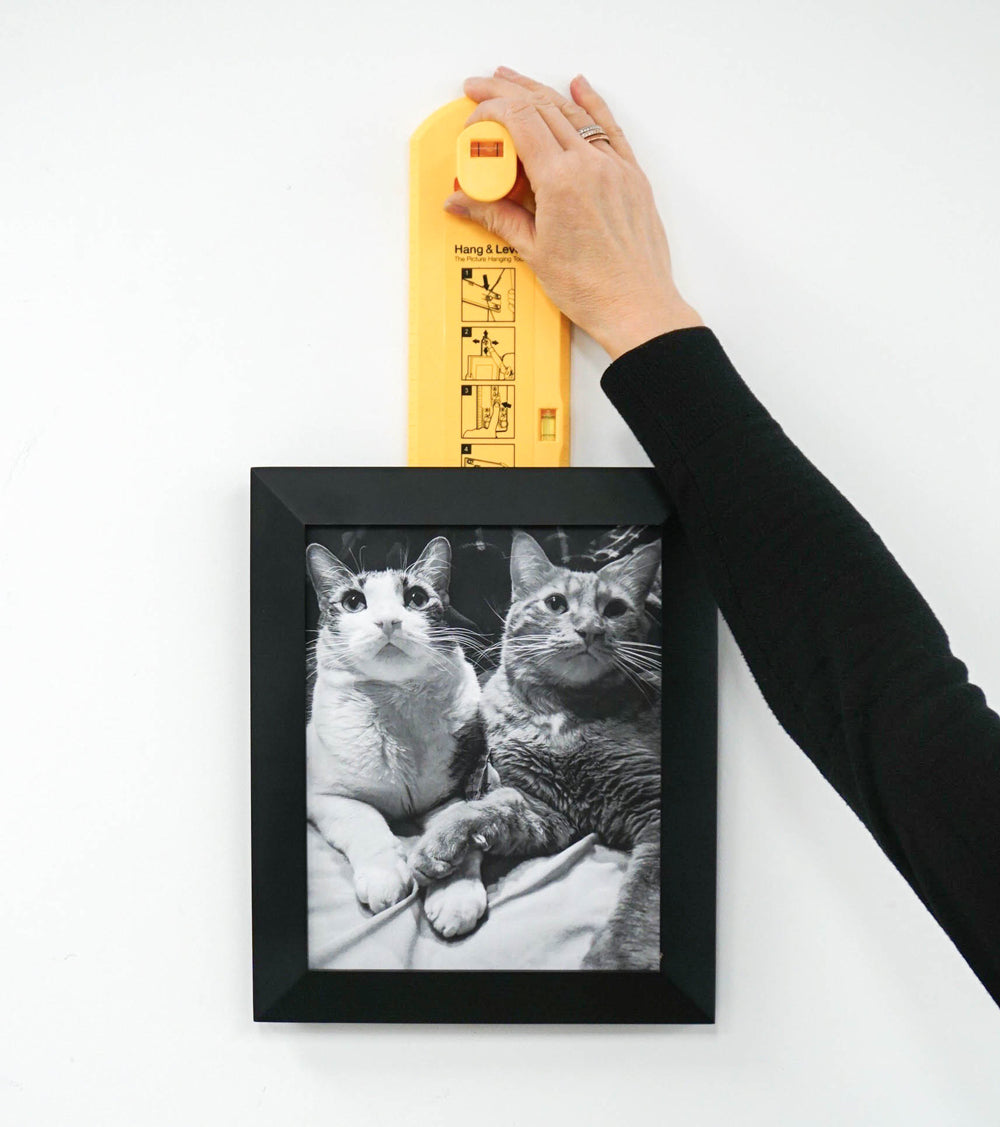 Got a bunch of frames on the floor that still haven't made it up on the walls? We hear ya. Hanging stuff on walls can be hard, but don't let that get in the way of expressing yourself. Not especially when we've mastered the art of picture hanging with all the right tools to make it a total breeze. Down the damage and up your decorating game. Say goodbye to mistake holes and hello to a whole new, confident you.
Go from hanging a single frame to creating as many gallery walls as your heart desires - the Picture Hanging Bundle has your back. It comes with Hang & Level™, AnchorPoints™, DécoNails™, DécoScrews™ and DécoHooks™. The gang's all here when it comes to essential tools. 
This yellow gadget is the make it or break it difference in the picture hanging world. It's equipped to handle sawtooth hooks, D-rings, keyholes and picture wire. If there's one thing that's an absolute must to get your pictures on the wall, it's this. Watch this short video on how to use Hang & Level. 
Do your pictures have a hard time staying in place? That's where AnchorPoints come in. They stop your frames from moving on the wall. That includes after you've dusted off your frames for regular cleaning and even if you're opening and closing nearby doors. AnchorPoints are made to stay. 
Bonus: They keep your pictures perfectly flush against the wall. No hard gaps here.
Not all heroes wear capes. In fact, sometimes they're teeny tiny and don't get the street cred they deserve. Can you believe that this one tiny nail can support up to 20 lbs? You better believe it then. DécoNails have a unique nail head design that prevents hardware from sliding off. Its spiral shank also ups the holding strength of the nail, so you can trust them to hold your pictures, mirrors, clocks and other wall decor in drywall.
Check out this quick video on how some of these tools work!
DécoScrews are not your average Joe screws. They're an anchor and screw in one, which maximizes both the staying power in the wall and how much weight it can hold. How much can they hold? Up to a whopping 30 lbs! When it's packing that kinda load, there's nothing you can't accomplish. Hang gallery walls, welcome signs and more wall décor.  
Last, but not least the Picture Hanging Bundle includes DécoHooks. If you're looking for extra strength and support, look no further. The way these curvy hooks are designed, ensure maximum security. We're talking about supporting up to 40 lbs! Don't have a hammer on hand? Don't sweat it. DecoHooks don't require any tools to use. Simply push and twist it into your drywall. See what we mean!
Put an ending to frames collecting dust on the floor. Do them justice and hang them up on your walls the easy and efficient way using the
Picture Hanging Bundle
. Meaningful art and precious memories are meant to be cherished. Grab your bundle today to get started.