How to hang a wreath on vinyl siding without any holes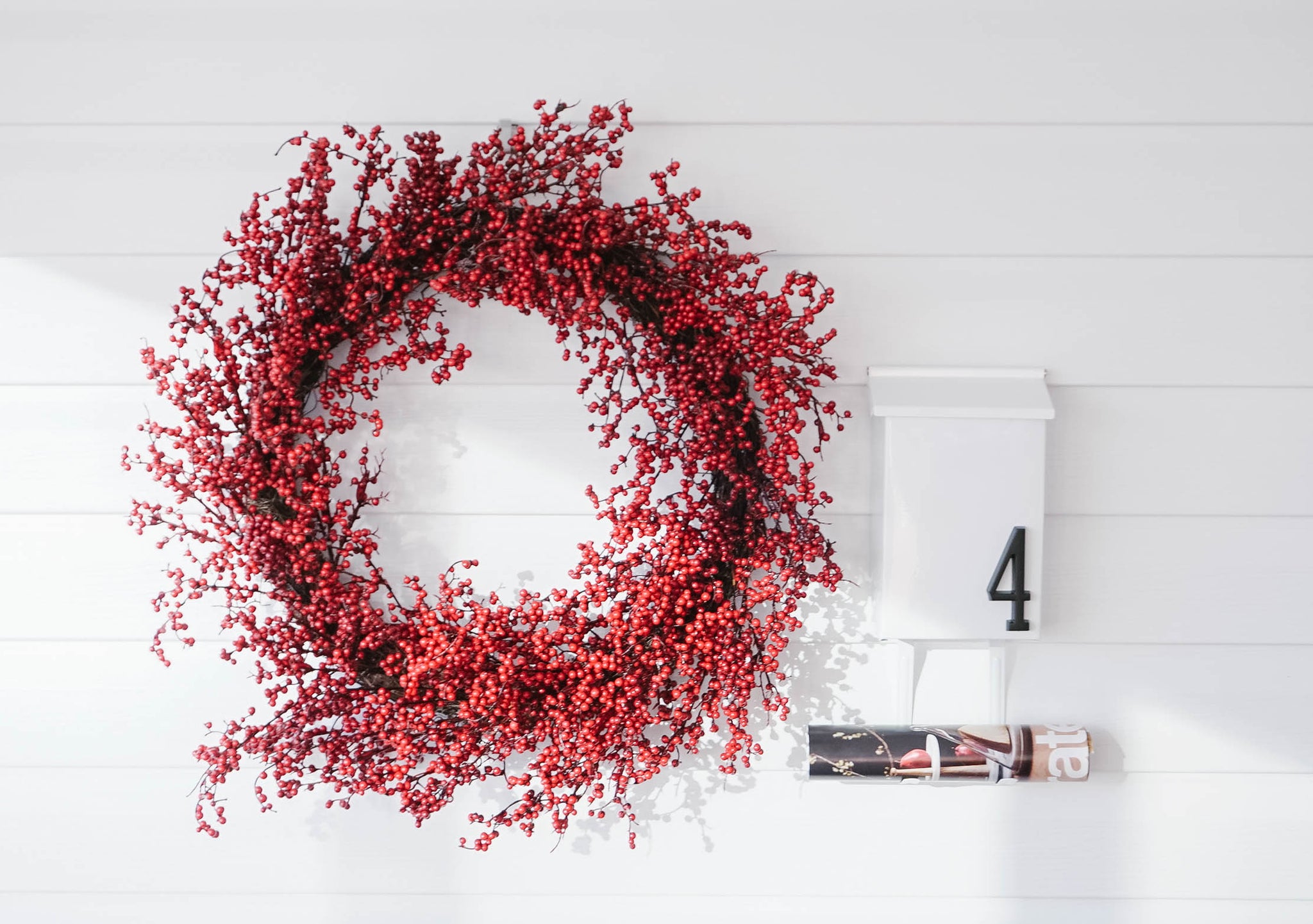 Making a statement for the holidays is easy. Learn how to hang this beautiful wreath on vinyl siding without making any holes or using any tools. DécoVinyl™ reusable hangers are easy to install with your fingers. Get into the holiday spirit in no time with this damage free solution for hanging all of your seasonal décor.    
Watch this short video to see how we hung this wreath.
Styling with a wreath
This red berry wreath pops gorgeously against our white vinyl and next to our white mailbox. It instantly makes our front porch more welcoming. You don't always need a sign to say hello, especially when you've got a jaw-dropper like this wreath. And, it took only a few minutes to securely hang it!
Two DécoVinyl head types for all kinds of décor
DécoVinyl comes in two head types, hook and button, that work with all kinds of wall décor, such as: wreaths, mailboxes, signs, lights, clocks and more. Each head is designed to prevent flyaways and breakage. Choose the head type that works best with the hanging hardware on the back of the item you are hanging.
The hook head is designed for hanging items fitted with wire or D-rings and the button head works well with sawtooth hooks or keyholes hangers. These hangers are sturdy and reliable. You can trust them to safely hang items up to 15 lbs, which is about the same weight as 30 cans of tomato soup! 
Hanging a wreath
Although our wreath is quite big, it's light in weight. It came with a loop hanger on the back, which made it super easy to slide over the DécoVinyl hook head. We used the hook head because this design has the shape and depth to help the wreath stay in place, even when it's windy.
Not all wreaths come with hanging hardware on the back, so a neat trick to solve that problem is to make your own using a zip tie. Check out our blog to learn more. 
Using DécoVinyl is fast and easy
DécoVinyl hangers install in the seam between two pieces of siding, no tools needed. Simply clip the metal hook into the seam until you feel it snap into place. Gently slide the hook along the seam to find the right spot. Then, hang the wreath. That's it; you're done!
Removing the reusable DécoVinyl is as fast as installing it, grasp the hook and rotate it upward and out of the seam.
Are you curious about how we hung the mailbox using DécoVinyl? Check out How to Hang Outdoor Decorations on Vinyl to get the complete steps.
We had a lot of fun creating this easy seasonal look. Our red berry wreath brings a nice pop of color and holiday cheer to all our visitors, and that's what the Christmas spirit is all about!
We love designing products to make decorating easy. Click on the live chat below or email us at: questions@utrdecorating.com, and we'll do our best to help you Create the home you love™
-The UTR Team