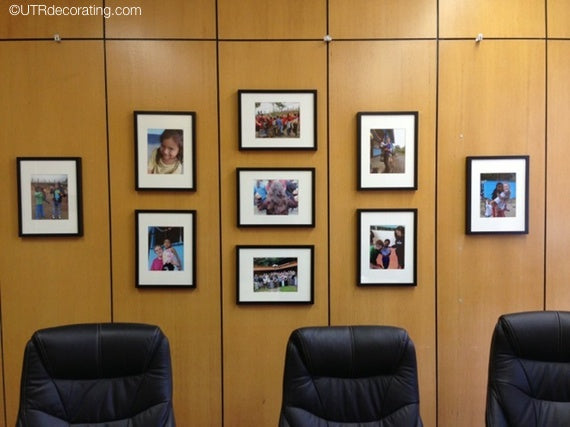 My co-workers' sister, Nina, and her fellow teachers spruced up the walls of their Regina Christian School boardroom with the help of Hang & Level. We were so impressed with their display that we wanted to share.
With the frames perfectly hung, their plan is to switch the pictures periodically to highlight the current activities and events happening at the school, which we think is a fabulous idea. Here's a good tip: since all the frames are identical, numbering the back of the frames from 1 to 9 starting with the one of the left will avoid any confusion when it's time to rehang them.
Read Nina's note to learn more about how this gallery project was completed:
"I decided to make this a project for our spring work bee. We had a very exhausting day painting, organizing and cleaning the school. The picture project was the last one on our list.  Everyone wanted to go home, but I really wanted to get this last project done before I left. Thank goodness I brought my Hang & Level! When I showed a couple of people how fast and easy it would be to get the collection of frames on the wall, they decided to stay a little longer to help me out. Within about 45 minutes we had the whole display up, and that included unwrapping and assembling the frames."
Thanks for sharing your project with us, Nina, we're thrilled to hear that Hang & Level made the hanging part of your project super easy. Well done!
At Under The Roof Decorating we make picture hanging and wall decorating easy.