Get your front porch ready for summer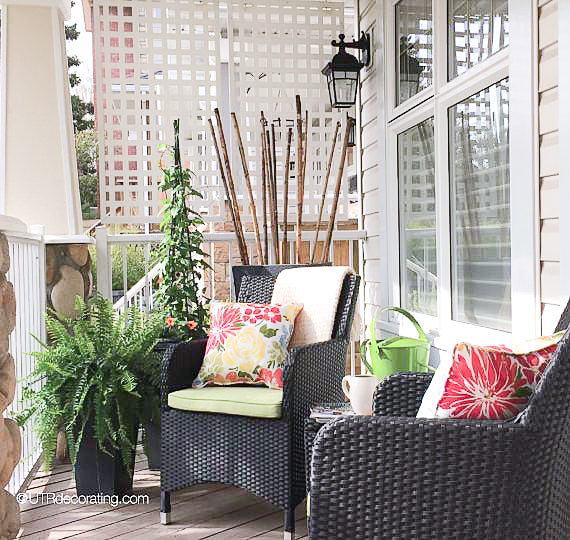 This is my small urban front porch. It used to be a space that my husband and I would avoid, but now it's a favorite spot to enjoy a cup of coffee on sunny mornings. Once I took the time to decorate my front porch for summer, we were keen to start making the most of it during the warmest months of the year. *Written by Liette, UTR Co-Founder.
I started by creating a cozy conversation area by placing the furniture at an angle to give the space the feel of a comfortable outdoor living room. With floral trend being all the rage this season, I couldn't resist adding bright floral outdoor cushions to jazz up the space. They brighten up the black wicker furniture and tie in nicely with flowers from the front garden and the yellow siding of the house, making the space cheerful and inviting.
I draped a throw on the back of one of the chairs, which is perfect for snuggling up in on cool days. The small cube on the porch is very versatile — I use it as a table, storage, and as an extra seat when we're in a pinch.
For extra privacy, I bought a Black-eyed Susan vine – it's in a pot for now, but I plan to drape it over the privacy screen my husband and I built. Neighbors are great, but it's nice to enjoy privacy when kicking back to enjoy a nice cup coffee or glass of wine.
Just for the fun of it, since I already had black and white cushions, I created this trendy city-chic look. I was amazed at how different the two looks were and that they were achieved by simply switching the cushions and throw — the furniture stayed in the exact same spot. Now I can pick whichever look I want, say floral for mornings and black and white for evenings, all with very minimal effort.
Which look do you prefer? Floral or black and white?
For more inspiration to get your front porch ready for summer, check out our  Pinterest board.
Liette Tousignant
Co-Founder of Under The Roof Decorating