Gallery wall tip: avoid extra holes in walls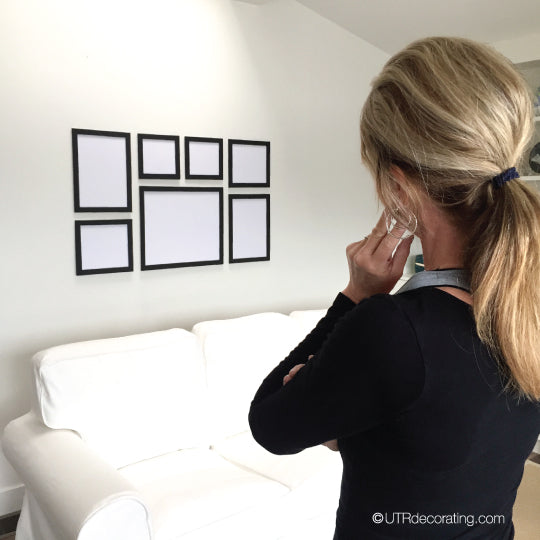 Often, it's the fear of damaging our walls that discourages us from creating beautiful photo displays in our home. Hanging things up shouldn't be this intimidating, that's why I'm sharing this gallery wall tip to avoid making extra holes in your walls, it only requires foam board and time.
I'm working on a new gallery wall to hang above my sofa. I have all the frames but before I start, I wanted to be 100% sure of the location of each. Making a mock-up of each frame helped me confirm the wall arrangement and spacing between each piece. I could have used parchment or brown construction paper, but since I already had foam boards at the office and I really wanted an easy way to find the best possible look, I made an almost perfect replica of my black and white frames – without the art.
All you need is:
Foam boards in colors of your choice – I bought mine in a pack of three at Staples 
Large ruler
Pencil
Utility knife
Glue gun
Cutting matt
Start by tracing each frame on white boards.  Use a utility
knife and ruler to cut the boards. This is completely optional, but
since I wanted my foam board frames to be identical to the actual frames, I cut pieces of black foam boards to match the width of my frames and glued them to the white boards. Other options include creating faux frames with electrician's tape or drawing them onto the boards with a marker.
That's it! Now it's time to play and find the perfect gallery look.
Stick pieces of painter's tape on the back of all the foam core frames and move them around until you find a display that fits your wall space. Do this where you'll be hanging the actual frames – for me it was right above my white sofa.
I started by placing a line of painter's tape at 8 inches from the top of the sofa to mark the bottom of the gallery set. I

 

lined up the bottom edges of the foam core frames with the tape mark and built the display up to form an imaginary rectangle. I used 1 inch pieces of tape between each frame to keep the spacing even throughout the arrangement.
Here, I placed two strips of painter's tape on the wall and lined up all the bottoms of the frames with the tape.  It's still a bit of a symmetrical look but not as structured as the first one.
All I did here, was to stick a strip of painter's tape on the wall and lined up the bottoms of the frames of the top row with it, and the tops of the frames from the bottom row. Once again, there's symmetry but it's an easier look than the others to execute.
The possibilities are endless, it's all about trial and error and finding a look that will best fit your style and wall space. Leave your foam board art display on the wall for a few days to give you a chance to think and confirm that it's the right look.
Making almost 3D sample boards like I did is more work than making simple plain paper cut outs, but in my opinion it gives you a more realistic visual of the art layout, which makes it easier to find your perfect style.
Before you start hanging your frames, have a look at 10 easy picture hanging tips to help you get the results you want. We also have a short video version of the tips you can watch right here.
Do you have any tips you'd like to share on how to create a gallery wall?
Liette Tousignant