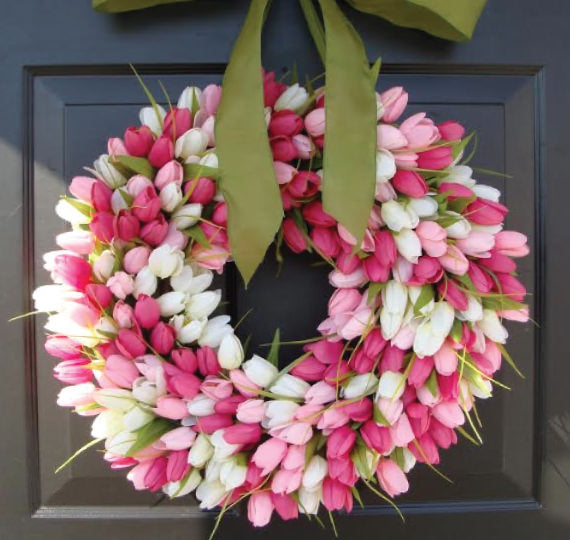 Pink and white Tulips: Elegant Wreaths
If you like keeping up with home trends, front door couture is a big one to follow. It's all about dressing up your front door with a fashionable designer look. There's a house in my neighborhood that I've named the "Martha Stewart House" because the front porch is always so well appointed. The homeowner styles her front door with beautiful show stopper wreaths for all occasions and I always make a point of driving or walking by to check out the theme of the month.
After St. Patrick's you can celebrate Easter and the arrival of spring with a gorgeous pastel wreath made of fresh flowers that would make Martha Stewart jealous. If using fresh flowers is not an option, don't hesitate to use faux florals like the ones in this tutorial. Then, if you're planning a beach or backyard party this summer, wow your guests with a wreath made of burlap, seashells and starfish.
The wreaths below were my inspiration to write this post, as I'm looking for inspiration to add a touch of fashion couture to my own front door.
St. Patrick and seashell wreaths: Etsy.com 
Yellow paper flower: Trendy tree
Easter egg wreath: Baby Centre
Cotton boll wreath: Actually Ashley
Lavender wreath: Etsy
You'll find other unique spring door decorations on our  Pinterest board along with some great DIY ideas.
If you're looking for different ways to hang a wreath without damaging your door, read the following tips I share in  "How to hang a wreath."
Which wreath is your favourite?
Liette Tousignant