From Clunky to Funky: Budget-Friendly Chair Makeover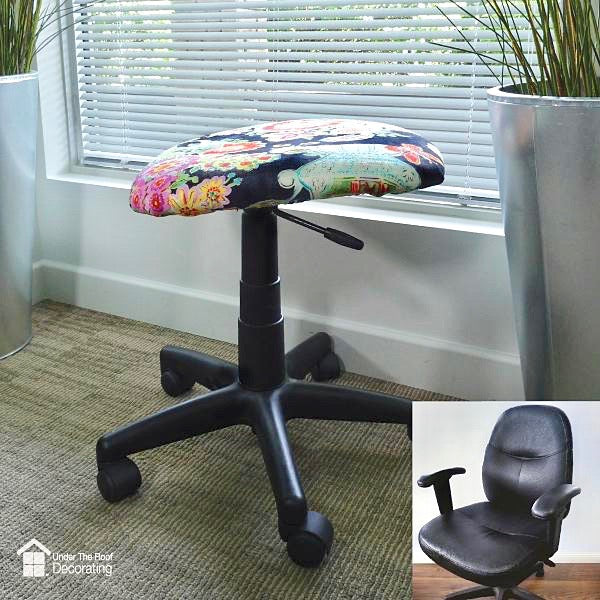 A couple of years ago, we did this super easy budget chair makeover. Since transforming the desk chair into a funky little stool, we've been using it every single day at the office.
The old chair was ugly and clunky, and the backrest was falling apart. We used to hide it in the back room but it was taking up a lot of space. I brought it home and parked it in the back alley, hoping that someone would take it away. Nobody did! Then, my husband had the brilliant idea of removing the back and armrests to convert it into a stool on wheels. * Written by Liette, Co-Founder.
Since I also have brilliant ideas (couple's rivalry!), I suggested we cover the seat with pretty fabric to jazz up the stool. With a few hours and the help of some co-workers, we transformed not just one old chair, but three. You can se how we accomplished this makeover magic right here.
Our office boardroom is fairly small, so being able to tuck the stools under the table when not being used helps make the space seem bigger. The fact that there are no back rests also helps keep the room visually uncluttered. I love that we can see the bright colors and patterns of the fabric through the glass table top. It gives the room a fun and energetic vibe, which is welcome since we're a creative design company.
Another thing I love is that the stools force me to sit up straight. The benefits are almost the same as when sitting on a stability ball, but without the fear of falling off or rolling off.
I'm so thrilled with the success of this DIY project. Now when I drive down the back alley, I keep my eyes open for treasures my neighbours have "thrown out" that I could repurpose and use in my next DIY project. Stay tuned!
Do you have any DIY projects in mind?
Liette Tousignant
Co-Founder of Under The Roof Decorating