Freshening up your walls with art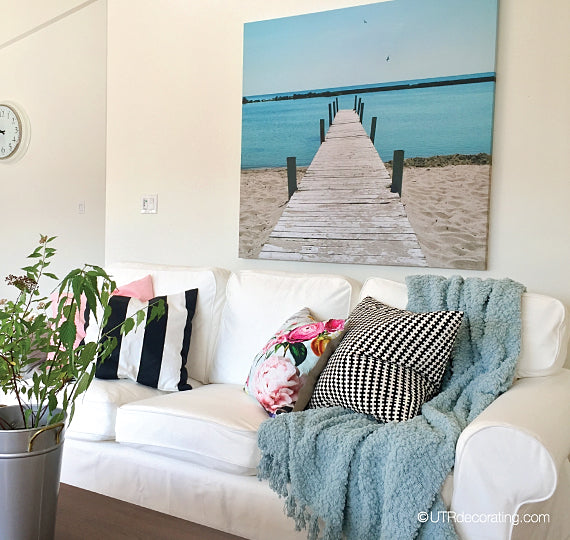 If you want to instantly change the look and feel of a space, simply freshen up your walls with art. I did a quick makeover in my living room by replacing a trio of botanicals with one large canvas and I love it.
I'm always itching to update my walls with fresh art and although I loved the look of the three prints hanging above the couch, I was craving a beach feel for the summer. When my daughter and I spotted this large boardwalk beach canvas we knew it was perfect for the living room wall at the cottage.
About this beach canvas:
Since this is a cottage living room and the weather has been gorgeous I thought I'd bring the outdoors inside for a relaxed beach feeling. Blue is an excellent color to decorate with in the summertime since it's fresh, relaxing, and crisp-looking, especially when paired with white walls and couch. I added a blue throw, a floral pillow and seashells to complete the summer beachy style.
About these three botanicals:
The look is nature-inspired, tranquil, and soft looking. The wooden frames tie in nicely with the dark coffee table and floors. I punched up the look with colorful pillows that matched the bright colors in the floral prints. I left the same amount of spacing between each frame for a nicely balanced wall display.
Just to be clear, there's no right or wrong look — they are both gorgeous. It was just time for a change and switching up art and accessories is an easy way to update a room without having to spend much money.
The couch, the rug and the coffee table stayed the same. Since any room can benefit from a little touch of black (just like an outfit), I added in a tad of black via the throw cushions.
If you're thinking of trying a look like this, I've shared the steps on how we hung the 3 prints over the couch – it wasn't as difficult as you might think.
Which look is your favorite? The botanical or the beach?
Do you have any picture hanging tips you'd like to share? Go ahead and share them in the comments box below for everyone to read.
Make sure to sign up to receive our decor and design blog posts delivered straight to your inbox.
Thanks for dropping by. Talk to you soon.
Liette Tousignant