Budget-friendly DIY art with colored paper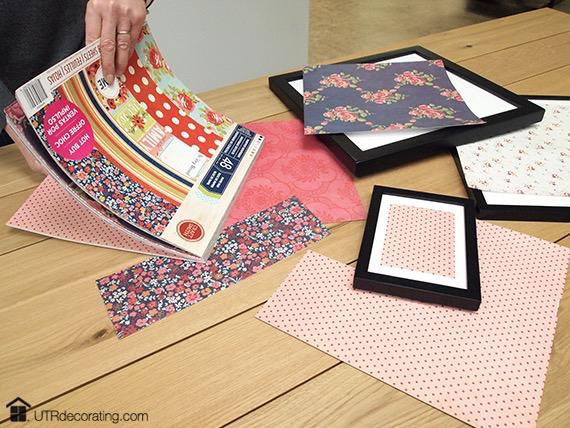 Whether you're decorating your first home, first apartment or if you've just repainted your walls and are looking for an inexpensive way to freshen up your space, do it with art. Artwork is the easiest way to update your décor without spending much money. Here's what we did....
We bought this colourful patterned paper pad at Michaels, we loved it so much that we used it to make beautiful wall art. 
Back at the office with our new book in hand, we created this very simple gallery wall using my Michaels' prints. Not bad for a total of $29.99 Canadian dollars. 
When you're hanging pictures, the first thing to do is to decide where you're going to hang them. This will help you choose the right colours to compliment your furnishings and it will help you figure out the amount of wall space to fill. It makes it easier then to determine the number of frames you'll need.
We started our picture hanging project with this grey couch and console table. The goal was to create a different look, so instead of hanging our gallery above either piece of furniture, we hung it so it would fit right in between the two.  
We created the gallery using frames we already had at the office, we simply switched out the art. 
As you can see in the above image, we chose three different sized florals – one with large blooms, one with medium (top left) and one with smaller flowers on a white background (far right). We used two other patterns, polka dots (in pink) and a green and white grid on the left.
To frame the prints, we laid out the white mats and paper on the table and played with different combinations. We tested the large and small mats with varied motifs before we started cutting. Although the patterns are quite different, they work amazingly well together because of the balance between the different sized of prints – a combination of size and patterns.
To cut the paper to fit in each frame, we used a utility knife. It goes faster and you get straighter edges than with scissors – with that said, use what works best for you.
Once all the art was framed, we placed the frames on the floor and moved them until we found the perfect display layout. It's amazing how quickly it always comes together. 
Hanging each frame was quite easy. Here's how we did it:
The black frames we've used in this video and for the gallery will soon be available at retail. In the meantime, you can use our Place&Push Frames that are fitted with the same easy hanging technology. They come in white and in black, and are available at our online store.
The final step is accessorizing. We bought dusty rose throw pillows to brighten up the large grey couch and to tie in with the pink in the display. We added height to the console table with a tall white lamp, then stacked books and a white bowl to complete the look. We also added a storage box stuffed with throws on the bottom shelf of the console table because without it, there was too much white wall space peeking through.
Here's a tip that we use all the time to verify if we've created a visually well balanced space. Imagine drawing a vertical line right in between the couch and console table all the way up the wall. Check if the furnishings and accessories on either side of that imaginary line are visually equal on both sides. Taking a picture of your space will also help you see things that you couldn't see with the naked eye. Both tips work like a charm, try them out. 
We often say that it's not how much you spend on things that matters, it's what you do with them. How you display your things to maximize the impact they have in a room. Gorgeous rooms can easily be designed on a very small budget.
The black frames and large white mats make the art pop against the white crisp wall. It looks stunning and it was done very inexpensively. For us, a house is not fully done being decorated until there's art on the walls. Art does to walls what jewelry does to an outfit.
 If you have any comments or suggestions, leave us in a note in the comments box below.
Thanks for stopping by!