Frame Your Christmas Cards And Create A Festive Vignette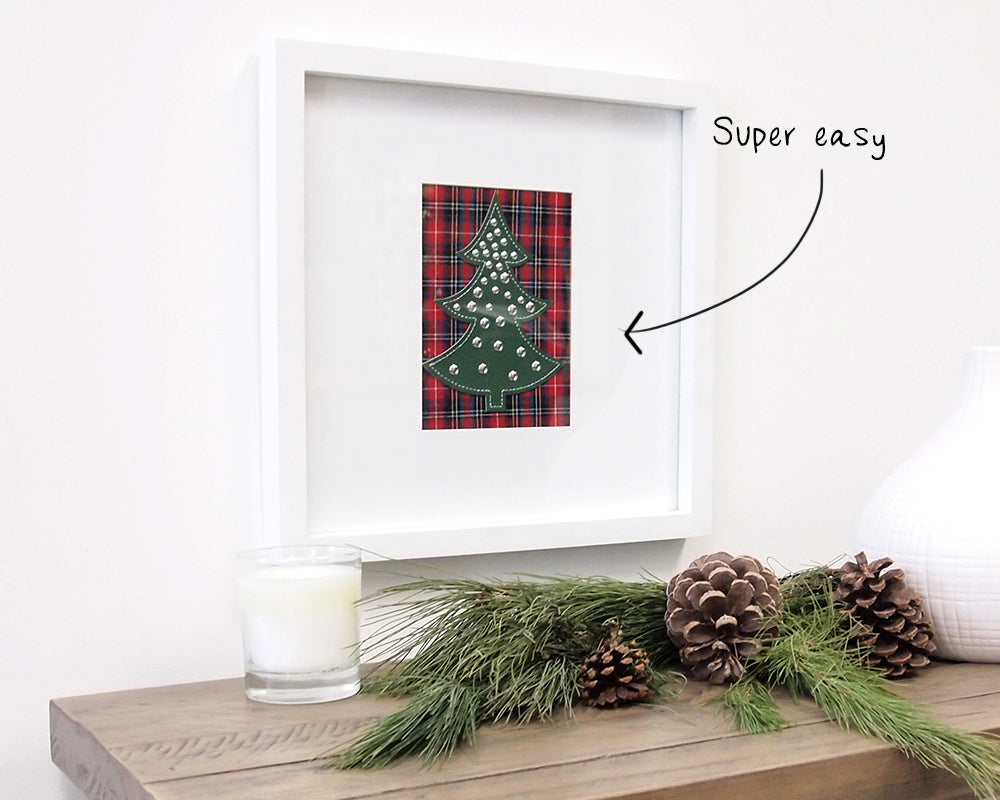 We love sending and receiving Christmas cards! Why not do something creative with your favorite cards this season - frame them and use them to decorate. In this blog, learn how to frame a card and use it as a focal point to create a festive vignette.
Frame the card
In our DIY project, we started by taking apart a picture frame that wasn't being used. To get the perfect placement of the card, we placed some tape on the top of the card, with the sticky portion facing up, and positioned the mat over it. 
When we found the right position we pressed the mat down onto the card. We put another small piece of tape on the bottom of the card on the back of the mat to secure it, so we could easily get the card and mat assembled into the frame.
Use the right tools for picture hanging
We used Hang & Level™  to quickly hang our frame above the table. This picture hanging tool makes decorating so easy because it marks exactly where to put the nail. This is especially critical when you need to have things aligned with other items. The tool also made it easy to try a few different spots with the collection of accessories in the vignette.
We also used AnchorPoints™ to keep our frame from moving. They are so easy to use. Stick them to the bottom two corners of the picture frame. Hang the frame on the nail. Once it's level, then push the frame into the wall. No more crooked frames! They will stay put even in high traffic areas or while dusting.
Creating the vignette
The vignette is so festive and was easy to assemble. The frame and card colors were used to select the items for the vignette - white, green and brown. We started by placing the white vase on the table and used Hang & Level to find the right spot for the framed card to counter the visual weight of the vase. We hung the frame and then added the green bough and pine cones. These two items are a strong contrast with the white and provide some interesting texture in the display. The white candle was the perfect height to tie in with both the frame and the vase, and is also a functional piece in the collection. When lit it evokes a really peaceful ambience. 
Remember, there are no set rules for creating a vignette. Just let your creativity flow and play with your items until you find the look that you like the best.
We love designing products to make decorating easy and help people create spaces that bring them joy. Click on the live chat below or email us at: questions@utrdecorating.com, and we'll do our best to help you Create the home you love™
-The UTR Team