Frame Life's Precious Moments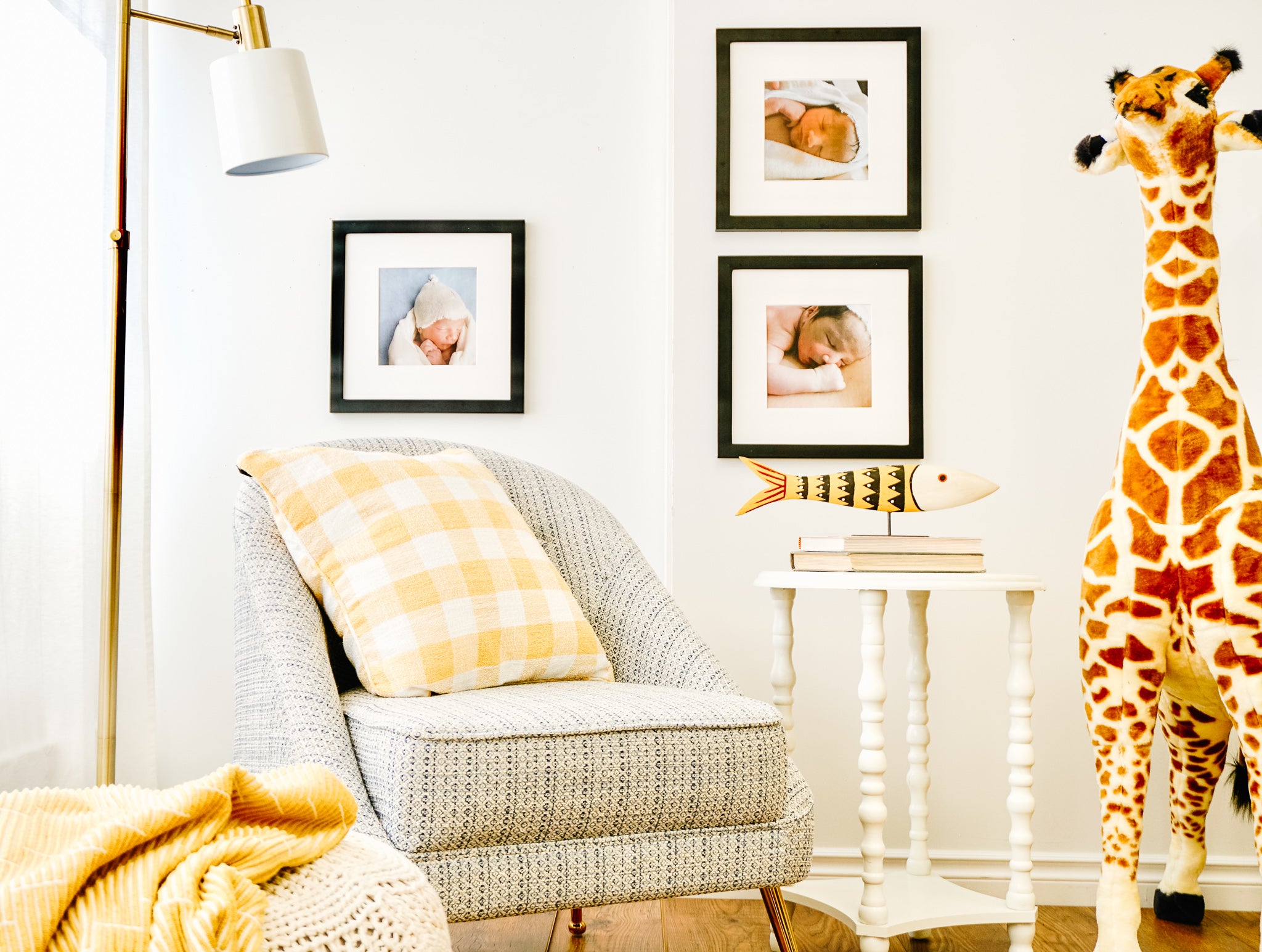 Every parent knows that children grow up way too fast. Make sure to capture those precious memories by framing favorites of your little ones. Framed baby pictures are a great way to personalize a nursery, even your little ones will enjoy them as they grow! Don't discount the photographs on your phone, put them to good use and start decorating!
PS: Gorgeous frames make the perfect gift for new parents! You won't have to break the bank and they'll love you for giving them a lifelong treasure.
New parents will be spending a lot of time in the nursery, so make sure it is as comfy and relaxing as possible. Having something interesting on your walls to enjoy will not only keep you sane during those long nights, but this wall décor will last a lifetime and can be passed on to the child when he/she's all grown up.
Here is a little sleepy Sebastien, barely one week old! So cute! All we did is print out the pictures and framed them – quick and painless.
Our goal was to warm up this little corner of the nursery and bring some life to the walls. Before hanging the frames we played around with some different display options. Try having someone hold the frames for you while you step back to assess, this way you can see the whole space and adjust as needed. An extra pair of hands is always welcome, especially when a little one is involved!
We used our brand new Place&Push frames to create a small gallery. This new way of hanging pictures only involves 2 pins that go in the upper and lower corners of the canvas or frame; all you have to do is simply push the frames in to hang them! As bizarre as it may sound, it truly does make hanging frames super easy. Check out this 30 sec video and you'll see the magic happen!
For the first frame we went up a few inches over the comfy chair – the perfect height to view from a sitting or standing position. We all know that during the first few weeks of baby's life can be hectic, and having a quiet relaxing corner with something pretty to look at is a godsend. Keep frames hanging low so you don't have to look way up when feeding…… Hanging frames too high is the #1 mistake people make! Avoid this by having a friend help you assess the placement as needed.
As shown, once you found the right spot on the wall make sure that the artwork is straight by using the handy dandy level that comes with frames and then easily push in to hang!
Next, we decided to hang 2 frames vertically above the whimsical fish. (We love him, don't you?)
We hung this frame above the table and fish just close enough that it can still be fully appreciated when relaxing in the chair. 
Repeat the same steps as above keeping in mind placement.  We hung this frame above the table and fish just close enough that it can still be fully appreciated when relaxing in the chair.
Now for the last frame! Don't dread hanging two pictures, one on top of the other – it's super easy! You could eyeball the distance, but a handy-dandy spacing strip comes with every Place&Push frame so why would you?
Line up the spacer from the top of the lower frame to the bottom of the higher frame. Level, push, and voila!
Take a moment to step back and see if the display needs tweaking. If it does, don't wait! Otherwise whenever you end up spending time in this room you'll be constantly reminded that the frame needs to be adjusted. 
Ta-da! And just like that, within minutes the room is completely adorable and ready to be enjoyed. 
Add a giraffe or other fun plush animals/accessories, and you'll have a welcoming nursery that anyone in the family can enjoy...especially the baby!
Awe! How gorgeous is this?
Our Place & Push frames also come in white. Check out this gallery wall we did for proud Grandma Hollie. 
About the Place&Push Frames 
You can buy the features frames on our online store.
Thanks for hanging out with us! What do you have hanging in your child's nursery, or what are you thinking of framing?
Leave a comment, we love hearing from you! 
Thanks for hanging out with us!