Fall Decorating With Pinecones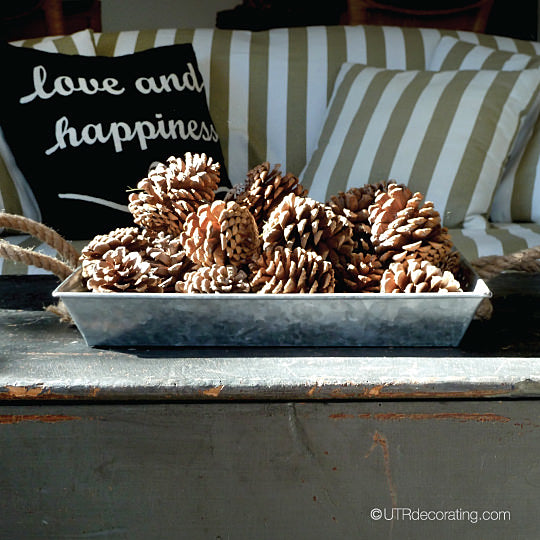 *Written by Liette Tousignant, Co-Founder of UTR Decorating.
Every year, my kids and I pick hundreds of pinecones that have fallen on the beach. I use them to decorate around the house; they add a warm cozy feel of autumn to the space and they're free!
Before bringing the pinecones inside, I rinsed them off with water and let them dry on the deck in the hot sun to get rid of bugs. Next, I pick out the bad ones, the ones squirrels munched on and keep the good ones.
This is one of those rituals that I love to do in the Fall and helps me plan various decorating projects for the winter.  I love filling a white metal bucket with pine cones and using it as a centerpiece for the picnic table. It's a good use of pinecones since they fall right on the beach.
Tip: Fill the bottom of the bucket with rocks to keep it in place even on windy days.
In the walkout basement, I have some pine cones displayed in a metal tray on a vintage trunk. The whole look says Nature, which is perfect for the space, as it's surrounded by beautiful large windows with lake views.
Here, I filled a very large wicker basket with pinecones, it looks great centered on the table, adds texture and a rustic touch to the room.
I love the natural beauty of pinecones, their simplicity and how quickly they transform a space from summer to Fall with minimal effort and cost.
Do you have any decorating ideas to make your home cozy for fall?