Easy Thanksgiving Decorating Ideas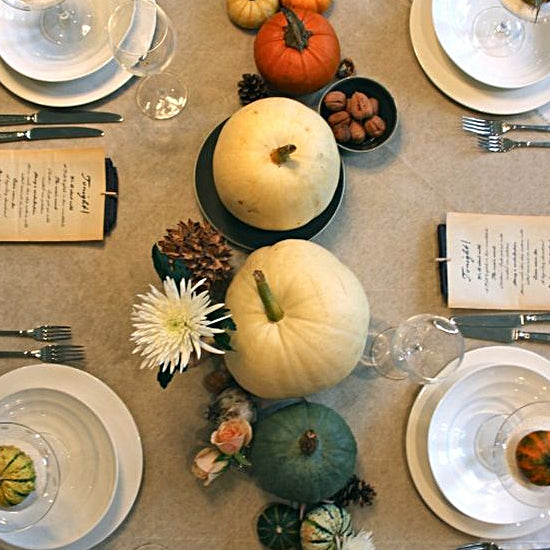 With Thanksgiving coming up this coming weekend, I thought I'd share some easy and inexpensive decorating ideas.
We'll focus on getting the dining table Thanksgiving ready, since that's where your guests will spend most of their time this holiday. I have hand-picked some of the best decorating ideas from our Pinterest board, so click on this link to see gorgeous pictures and "how to" steps for the following ideas:
Simple centrepieces:
Create a beautiful harvest look with pumpkins and gourds of different sizes and shapes and add extra height to your display with a few tapered candles. Add leaves, pinecones, flowers to continue the "au natural" autumn look.
Table runner:
Make your own runner out of burlap, there's no sewing required. Fancy it up by pulling off three to five strings of the burlap around the edges to create a fringe. The best thing about this runner is that you can re-use it at Christmas, since rustic burlap is a trend suitable for any holiday or season.
Placemats:
You'll love this idea: have the kids make placements with crayons and brown paper and ask them to write "thank you" notes right on the mats. Leave the crayons out and you'll be guaranteed that your guests will want to participate in this DIY project as well.
Place cards:
Make tiny wreaths out of fresh rosemary and place one on each napkin.  Write the name of each guest on a small tag and lay it on top of the wreath.  It looks elegant, smells fresh, and it's so easy to do. Make sure you check out the Pinterest picture!
Dining chairs:
Wrap a strip of burlap around the back of your chairs, add colorful ribbon and decorate with pine cones, small fall wreaths, leaves or any other seasonal decoration you may have. It's easy to do and it will add an instant atmosphere of celebration.
I hope these tips help you have a festive but stress-free family get together.
Happy Thanksgiving to all of our fellow Canadians!
Don't miss any of the great tips that we post on our blog every day! Sign up here and we'll send new blog posts straight to your inbox.
Liette Tousignant
Interior decorator turned inventor turned entrepreneur.
Feature image by Homedit.com